The risk landscape is fast-evolving and risk managers need to change the risk management model to get a grasp of the challenges, argues Amrae president Brigitte Bouquot
Populism, political uncertainty, climate change, advancements in technology, and a highly regulated environment are five challenges that are causing "a crisis of confidence" in the business world, according to Brigitte Bouquot, Amrae president.
Addressing more than 2,500 delegates at the 27th Amrae Rencontres in Deauville, Bouquot said: "The world has profoundly changed in the past two years. It is still a promising world, but one torn apart by the rise of populism; Europe has been challenged on the brink of a major deadline; France has come to an inflection point, perhaps even a breaking point and 2019 will be a decisive year."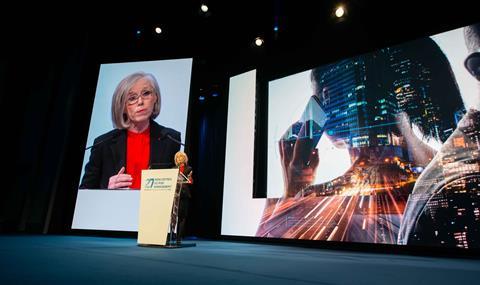 She said that the situation is grave and that society is "in the midst of a crisis of confidence", which has shaken political and economic models across Europe.
She pointed to the challenges of climate change and technology as two other major issues facing risk managers in 2019.
"[The world] faces two great challenges that will determine its future. On the one hand, the challenge of climate-change and the ecology of a now-limited planet; on the other hand, humanity's challenge – our challenge – of mastering technology, in all its extraordinary power," she said.
But these are not the only challenges that Bouquot highlighted in her opening speech. She also argued that increases in regulation are leaving businesses more exposed to risks.
"Self-protection, for businesses, also means being aware of the rise of regulations – in this regard, 2018 saw the Sapin II law enter into force, along with the General Data Protection Regulation," she explained, "and businesses must also protect themselves from trade wars between nations, and the arsenal of sanctions this implies.
"Businesses are reviewing their structures and practices to bring them into accord with legal compliance – zero-tolerance is the watchword here, at the risk of breaking the law."
Her answer for dealing with these threats? Change the risk management model.
She said: "I believe we have to invert the Risk Management paradigm". And argued that risk management should not be about wariness about the world but rather the method by which businesses can plan for the future, particularly when it comes to sustainability.
"Risk management has become the guiding principle of businesses taking action for a sustainable world, a better world… risk management has become the foundation on which trust is built."
"We transform ourselves when faced with a risk, and we cannot successfully transform ourselves without managing the risks this involves…. In an uncertain world, the Risk Manager has become essential to business resilience."