After a meteoric rise, the risk manager for Marriott is spearheading plans to re-energise an ageing profession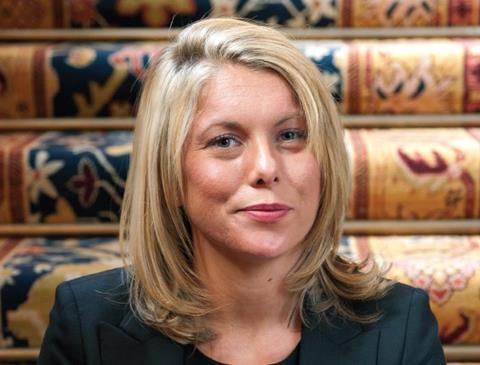 At the newly renovated, five-star St Pancras Renaissance London Hotel, a revival of the 19th-century neo-Gothic palace once known as the Midland Grand, Kathryn Wallin arrives for her interview with StrategicRISK. One of 291 European hotels that she risk manages for the Marriott brand, the property has undergone a massive five-year reconstruction, so it is fitting that she should be here to discuss her own renovation project: her plans to reinvigorate what on the surface may seem like an ageing profession.
That plan comes in the form of fastTrack, a training scheme launched six months ago by Airmic to attract fresh blood to risk management.
As chair of fastTrack, Wallin is in charge of a support network that nurtures the talents and accelerates the careers of the next generation of risk managers. With her guidance, fastTrack offers those who are at the beginning of their careers interactive foundation courses on risk and insurance management and key business skills. In addition, a mentoring scheme pairs newly qualified risk managers with experienced professionals.
The scheme targets two groups: the less experienced and anyone who, as a result of the financial crisis, has had risk and insurance added to their remit.
In the six months following its launch, 130 emerging risk managers registered for fastTrack's support and that figure is set to grow, Wallin says. The numbers so far, although relatively small compared with the level of experienced and mature risk advisors in the UK, indicates that there is a pool of young and undiscovered talent. These hopefuls, she says, "just need to be engaged".
Five years ago, however, when she took on her first risk manager job as Tesco's insurable risk executive, her view of the profession was rather different. Joining the supermarket giant at 23, not only did she become one of the youngest members of the profession, she also discovered that "age was a barrier".
"When I started my first job, I remember thinking risk management was a closed and ageing industry. Those initial feelings were reinforced when I went to my first Airmic conference. It was a pretty daunting experience and I didn't encounter any risk managers of my age," she recalls.
"Back then, did I have a network of risk manager peers in my age range with whom I could resonate? No, it didn't exist.
"Was it just that they weren't at events that I attended? I don't know. But at the time, there certainly wasn't a network developed for those new to risk, and with hindsight, I wish I had had access to a scheme similar to fastTrack when I was at Tesco. "That was my impetus for speaking to John Hurrell, Airmic's chief executive."
Her message to Hurrell was compelling. She told him that Airmic was not doing enough to serve the needs of younger members and gave him what he describes as a "shopping list" of the actions Airmic needed to take.
Under the auspices of the association's learning and development committee – chaired by The Warranty Group's European head of risk, Patrick Smith – Airmic set up the fastTrack subcommittee last year. Chaired by Wallin, it officially launched the training programme in January.
As a younger risk manager, Wallin's age and experience reflect the scheme's target group, making her a leader with whom many of its members can identify. But it will take ambition and personal drive to ensure fastTrack's success. She is a passionate, ambitious risk manager who cares about shaping the careers of those new to the industry. Yet, given her determination, it comes as a surprise to learn that her route into the profession was unplanned.
Graduating with a science degree in 2006, her initial aspiration was to teach. However, like many in risk and insurance, her career involved an element of serendipity. "I knew someone in the industry and they convinced me of the opportunities", she says. That aside, her CV will be the envy of any ambitious risk professional, with positions at companies listed on the FTSE 100 and NASDAQ-100 indices.
Her journey into the industry began at the age of 22, when she became a broker at UK-based Lark Insurance. A position in the newly created risk and insurance team at Tesco followed and, at 26, she took on the risks of Marriott International, where she manages the threats to its European branches.
With fastTrack, Wallin and the team hope to inspire more to consider a career in risk so that there will be fewer cases of "I stumbled into it". Instead, the dominant themes will be "I am going to become a risk manager" and "I'm here because I set out to be".
As she adds the finishing touches to the agenda of a fastTrack workshop she will chair at Airmic's annual conference in Birmingham this month, she talks about her plans for the scheme.
"We want to build a career roadmap for those entering the profession," she says. "It's about educating the next generation of leaders. I very much see Airmic as shaping the future of the profession, and that's exactly what I want fastTrack to support.
"Next year, I want to develop a programme where we can take risk managers on a journey through the industry, from soup to nuts, spending a day with an underwriter, a broker, an insurer, all the way through to sitting in on a court hearing about a claims case.
"We're also looking to work with Lloyd's in developing a two-day talent development programme, and making links with universities that are offering risk management degrees.
"We also need to consider remote learning. Not everyone can come to London, and it is also about looking at the needs of the next generation of risk professionals. How do they want to be communicated with?"
Wallin is an inspirational leader and a rising star who, when she grabs the attention of the new and young with her own story and goals for the scheme, will instil in them the level of confidence needed to tackle the risks of tomorrow.
Through her enthusiasm and hard work, Wallin made an impressive start to her career and hopes that the passion she feels for her work will be infectious.
"I feel very lucky to represent the mindset of new and less experienced risk professionals within Airmic," she says. "Because, like them, I felt and experienced the challenges they come up against in their first few years in the profession.
"To me, we can have as many members on the scheme as we want, but the litmus test is how engaged they are. This is an industry-wide effort. Insurers and brokers need to be alive to fastTrack because that train is going to depart the platform, and they need to be on it or ahead of it." Kin Ly
A day in the life of… a Marriott International risk manager
"There isn't a typical day and that is what I love about my job: it's so diverse. I can go from a phone call with an owner about insurance requirements in Moscow through to managing an emerging risk that's got the attention of the board, to sitting in on court hearings.
"I manage the insurance and risks for Europe, but Marriott International's definition of Europe isn't the traditional Europe as we know it. My area of responsibility spans from Dublin to Kazakhstan.
"Because I'm dealing with a number of time zones, my day typically starts at 5am. I have a coffee, fire up my laptop and respond to emails before I make my way to Europe's headquarters in Fetter Lane, London.
"It's a great environment because the company values risk management and we are seen as a key business partner to operations. Placing risk on the agenda of the board is something that many risk managers struggle with, but here the discipline has a very loud voice.
"Our vision is to double Marriott's presence in Europe by 2015 and be recognised as the preferred hotel management company. Marriott International's president for Europe, Amy McPherson, has set an ambitious target to increase the number of hotel rooms across its European hotels to 80,000 by 2015.
"One way the company is looking to achieve this is with its new brand, Moxy, which targets the next generation of travellers. New hotels under this brand will be opening this year.
"I recently put together an interactive workshop for the European hotel managers – a risk reconstruction event.
"We staged and filmed a slip and fall incident, a risk typical in the hospitality sector. In a workshop, the general managers watched and reviewed the incident. We then split them into