Greece and Spain pose top threat, according to delegates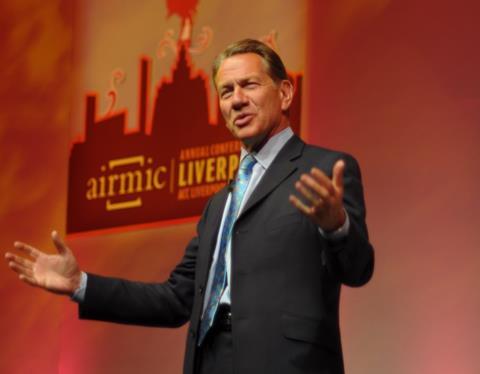 Michael Portillo's remarks on the financial crisis in the Eurozone struck a chord with the majority of Airmic members yesterday.
In his speech, the former politician highlighted the formidable debt still outstanding in the global financial markets from the credit crunch. "The debt created by the derivatives crisis is the equivalent of 10 years of global GDP. It is the elephant in the room governments are trying to ignore."
He believes the systemic problem with the Euro is that countries like Greece and Spain cannot devalue the currency to stimulate growth. "Devaluation of the currency has worked before especially in Argentina where it made the economy most attractive to outside investment. That's what is missing in the Eurozone, Greece cannot devalue, or print its own money. So I agree with those who reject the European pressures of further austerity measures. They don't work."
Spiralling welfare costs and stagnant growth, he says, will drag the Greek economy further into debt and further bailouts to save the Euro are "fruitless and pointless". However the German chancellor's call for 'a United States of Europe', where Europe becomes like the US with federal states and acts as a unified entity, is "balderdash", in Portillo's eyes. "If Spain were able to devalue its currency, a house worth €290,000 could be dropped to €150,000 which people in the UK might be interested in buying. I also think the German currency is undervalued at the moment," Portillo added.
Delegates at the conference agree the fragility of the Eurozone is a major concern. Those visiting the StrategicRISK stand's Risk Map placed economic uncertainty in Greece and Spain as the top threat. Many added the caveat that this will lead to civil unrest and create further geopolitical risks.
RSA global business director, commercial, Paul Greensmith, told StrategicRISK: "The Eurozone crisis is the major worry, and with £4 trillion of debt in the global markets the current austerity measures are not enough. We have seen in Greece a lot of claims in the luxury yacht market of malicious damage and theft. We have asked clients to keep yachts in more secure moorings as a result. Civil unrest is on the increase."