Paul Taylor, Airmic's new chairman, outlined his strategy for the UK risk association
Airmic's new chairman Paul Taylor set out his strategy for the UK risk management association in the final hours of its conference in Bournemouth on Wednesday (June 9).
Taylor, who is risk director of Morgan Crucible, assumed the leadership role from outgoing chairman Nicola Harvey. Airmic chief executive John Hurrell also took to the stage to thank Christie's risk director Harvey for her year of service.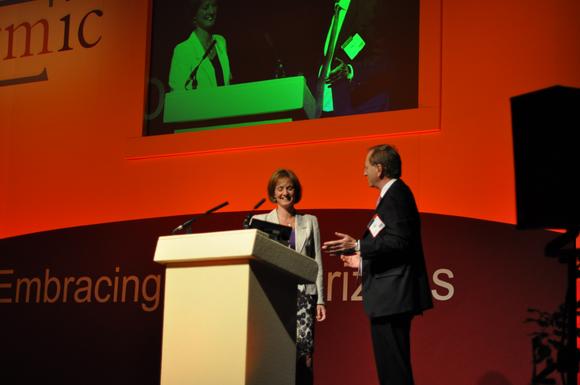 Addressing Airmic members from the podium the new chairman broke with a tradition established in previous years by not announcing a theme.
"I don't have a theme," said Taylor. "But I do have three key areas that I want to focus on." He described the first two as tools and support to help members with insurance and risk financing as well as the broader risk management role.
Last year, Harvey announced that her Airmic theme would be "embracing new horizons". And her successor described his third goal as focusing Airmic's attention on helping its members to prepare for the future.
"Put yourselves as risk managers ten years from now. Where will you be? How is the risk management profession going to be viewed? Will there even be a risk management profession?"
"We need to think ahead, probably over the ten year horizon. I want Airmic to think about that and plan some steps and to lay the path into the future."
"I'm very excited about my year and I hope I can bring something to help Airmic and its members move forward."