A suspicious blaze at an Amazon warehouse is thought to have been caused by a member of staff at the online retailer, StrategicRISK understands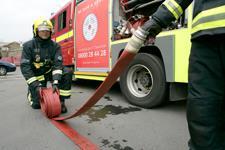 A suspicious fire at an Amazon warehouse in November has led to an arrest by local police, with an individual since bailed.
An employee of the online retailer was taken into police custody after the 4 November blaze, StrategicRISK has learned.
The fire at Amazon's Rugeley, UK warehouse is understood to have caused at least £12m worth of damage to stock when valued at retail prices, a source familiar with the matter told StrategicRISK.
The blaze caused damage to three floors, in addition to water damage caused by containment of the fire, the source added.
"A 21-year-old male from the Walsall area was arrested on 6 November 2017 in connection with the fire, he has been released under investigation," a Staffordshire Police spokesperson told StrategicRISK.
Amazon declined to comment on the value of losses or about the cause of the fire, still under police investigation.
Fire fighters indicated the fire was caused deliberately, leading to the police investigation.
The blaze began on the third floor and then spread to the fourth floor of the four-storey depot building, according to Staffordshire Fire and Rescue Service.
"This was quite a large-scale incident which took several hours to deal with due to the type of materials inside the building and the level of smoke logging which took significant time to ventilate," said Carl Mason, a station manager for Staffordshire Fire and Rescue Service.
"The blaze has left the building seriously damaged but fortunately everyone inside was safely evacuated and no one was injured during the incident," he continued.
"Thankfully the building did have a sprinkler system fitted which has prevented the fire from spreading and becoming far more serious," Mason added.
The same warehouse had been damaged in a previous suspected arson attack, almost exactly a year earlier, on 13 November 2016.
For more on fire risk, and lessons from previous loss events involving fires, follow StrategicRISK's content in the New Year 2018.