MBDA's head of risk on how the role is different for a defence contractor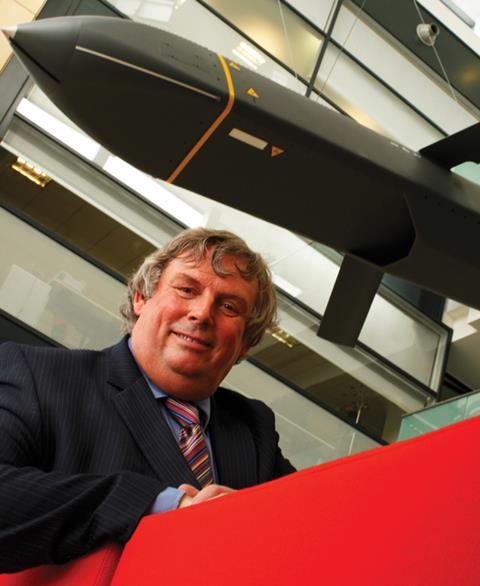 For any business, the making of modern missile technology certainly ranks pretty close to the top of the risk chart. "We are in a different situation to other industries in many respects," says Andrew Fenton, head of risk at MBDA, a leading multinational defence company with 10,000 employees across sites in the UK, Italy, France, Germany and the USA.
"Of course, the key reason for this is that the materials that we deal with are strictly controlled," he says. "It is a legal requirement for us to carry out a whole raft of checks and measures. Wherever there is a potential issue, it is essential that it is highly scrutinised and managed."
This demands a different attitude to risk, Fenton says. "Whereas a risk manager at, say, a supermarket might anticipate unexpected events and the effect they could have on the business, we have no choice but to make sure that we work to strictly approved procedures that anticipate and eliminate potential risks and problems. I suppose in some ways this does make my life easier."
The government ultimately decides who we can do business with. It can be very restrictive, and rightly so, but it can also be supportive.'
This highly structured approach begins on the factory floor and extends right through to export and delivery. "When it comes to manufacturing we operate within a highly regulated regime that dictates build specification, storage requirements, distance between buildings - which may also need to be separated by earth mounds - and other such risk mitigation measures," Fenton says. "Of course, the need to adhere to such exacting standards naturally also leads to achieving good risk management standards, but the point is that we have no choice in the matter."
The location of many MBDA manufacturing sites tends to be historical but, owing to security concerns, they are also chosen for their isolation. "A lot are in forests well away from population centres," Fenton says. "We don't tend to have neighbours, apart from wildlife. [In contrast] our offices can, in theory, be located anywhere, but security is still a concern. However, here again the government steps in and we have to prove that our sites and staff are up to standard. It's not just best practice, it's a legal requirement."
Changing IT creates security risks
Espionage and terrorism are all significant risks for MBDA, and all employees are vetted to comply with government security requirements, with the level of checks reflecting the nature of their roles. But even with these procedures in place, the rapid pace of change in IT has created significant security risks and exposure to cyber crime, terrorism and industrial espionage, and Fenton says MBDA constantly adapts its approach to stay ahead of the game. "For example, to address the new challenges created by the emergence of [cameras in] mobile phones," he says. "Threats are always there for all companies; it's not that we are any more vulnerable than other businesses, but we have to be much more on top of any risks."
Fenton believes that the key to successful risk management across such a large, multinational company is making sure that every employee understands their responsibilities. "Although only one or two people may actually have the title of risk manager in each country, this is only the tip of the iceberg," he says. "Risk management is integral to all aspects of the business and is considered and managed within each project, function, site and facility.
"A large part of our risk management activities actually takes place as an intrinsic part of the overall management of each project where technological, cost and schedule risks are managed alongside resource, supply, customer commercial and other risks."
But some risks are considered and managed across projects, functions and national boundaries. "This includes enterprise risk and insurable risk, my main area of focus," Fenton says. "We strive to avoid incidents and mitigate their impact wherever possible, and we invest heavily in risk prevention measures. This has led to 87% of all MBDA sites and assets being independently judged by our lead property insurer as being 'above standard' or 'good'."
Risk is reviewed at every level
Fenton is also proud of the way risks are reviewed at every level of the management hierarchy and the clear path for issues to rise up wherever necessary - ultimately to the management committee and shareholders. "We have a good approach to communicating risk, including a well-defined process for moving issues up the hierarchy and flagging them up at company level if necessary," he says. "For example, a significant technical issue or risk would be dealt with at the top."
Of course, one major risk for MBDA is controlling where munitions end up and how they are used especially as they work with 90 armed forces worldwide. But again, export regulations provide guidance: "Everything we do is tightly controlled by home nation governments," Fenton says.
"The government ultimately decides who we can do business with. It can be very restrictive, and rightly so, but it can also be supportive."
But while building missiles may be more intrinsically risky than selling groceries, it is an industry that benefits from a long-term stability that most businesses can only dream of.
"One of the key things for us is that everything we do is very long term," Fenton says. "We could be working on a product and its variants and evolutions for decades. This results in a stability within the company that helps us manage our way through problems and issues. We also tend to develop very long-term relationships with our customers, partners and suppliers that encourages us to develop mutually beneficial approaches to what we do.
"Many defence projects involve multiple partners in it for the long term. Our suppliers tend to be integral and we normally have to work together towards a common goal.
"Customers often want a package, maybe ships, planes and then our products to go on them. We often find ourselves working alongside companies that might in other situations be our competitors."
CV
Fenton joined the defence sector in 1981 and has worked in a variety of finance-related roles, including project management and financial accounting manager, head of internal
audit and head of financial systems.
He qualified as a chartered management accountant in 1982. In the mid-1990s Fenton became involved in mergers and acquisitions (M&A), a role that led to the merger of BAE Systems and Matra Defence's missile interests to form Matra BAe Dynamics (MBD), an Anglo-French missile systems company. He continued to work as head of M&A while the company expanded to include Aerospatiale, Alenia Marconi Systems and LFK to form MBDA in 2001.
In 2002, Fenton became involved in risk management and took the responsibility for creating a brand new standalone insurance programme from scratch for MBDA, having previously been insured by its three shareholders: EADS, BAE Systems and Finmeccanica.
In 2008 he set-up a captive re-insurance company that in 2012 was converted into a direct writing captive insurance company.
Defence industry risks
Technology
"This is always a challenge in the defence industry," Fenton says. "When we start designing we are pushing the boundaries of what is possible, working at the leading edge of technology.
"Making sure we can achieve specifications is a real challenge and relies on us constantly being innovative to achieve our goals."
Political risk
"We have to have a strict approach to maintaining controls with respect to our customers. One of the big challenges can be changes of government and the associated changes in budgets and priorities.
"New parliaments tend to want to re-assess where they are spending their budgets and may seek to change their commitments. We have to be able to find a way through that," Fenton says.
Economic change
"Less money in the system can mean that decisions are often delayed for years while, in the meantime, we need to make sure we retain the people and skills to resource the project when it finally commences," Fenton says. "It can be hard to manage this when we ultimately don't know if a project is going to be confirmed or not.
"Another issue is customer funding: as the banks change their approach to lending, we need to make sure our customers have appropriate funding, guarantees and bonding in place to finance the contract. As exporters, currency fluctuations can be a real issue, and currency hedging deals become increasingly important."