Autonomous technology is transforming many industries. Transportation and logistics already pose complex risks for risk managers and insurance buyers. For autonomous vehicles the logistics sector will be in the vanguard of change. In association with AIG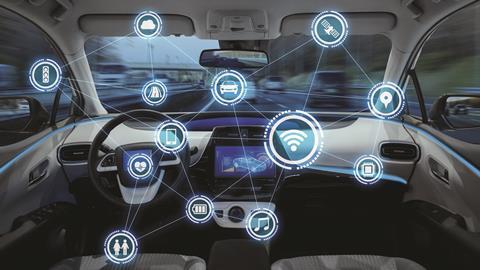 More than a century of motoring has passed since the first pedestrian car accident fatality in the UK. That took place on 17 August 1896 when Bridget Driscoll, a housewife travelling to a folk-dancing display at Crystal Palace, was struck down by a motorist travelling at a mere 4mph. The coroner for the case said he hoped that "such a thing would never happen again.
Human error has cost millions of lives in accidents on roads since then. Vehicles, and the rules for driving, grew rapidly, but human fallibility has remained consistent. Now, more than a century later, another revolution looms, with the potential to remove driver error from the equation. An exciting future – with traffic made up of driverless cars, vans, buses and trucks – is on the horizon.
Accelerating advances in automation, machine learning and robotics mean that autonomous vehicles (AVs) are already in the testing phase of taking to the roads in several countries. Logistics firms should take heed, as trucks are likely to be among the first AVs, particularly as they drive mostly on major roads and for commercial reasons.
"Its an interesting area to us. Its got to be; it's going to change the world," says Carl Hanson, group fleet director at logistics firm Wincanton, which operates 4,500 trucks on UK roads. "There is already a race to become the AV capital. Everyone is interested in AVs and the UK will want to be up there with it."
The UK government is paying attention, with an Automated and Electric Vehicles Bill in parliament, expected to be enacted next year. The legislation, confirmed along with innovation funding in November's budget speech, aims to get driverless cars insured and on the road by 2021. The government believes a coming revolution towards AV technology will be worth £28bn to the country's economy by 2040.
The European Commission is also on the case. It published a high-level report in September 2017 after announcing its legislative roadmap for AVs along with an innovation stimulus and funding earlier in the year. The Commission aims to kick off the process of regulatory change and cross-border agreements to integrate AVs with other traffic across Europe by 2025.
The international market for AV tech is already big. For example, in September it was announced that Google's Waymo will be working with Intel on the computing power to get AVs on the roads. The same month, Samsung and Harman launched a $300m fund to get into the AV sector.
"Vehicles could be fully autonomous in ten years, but it will be the economics that will drive it. Its about demonstrating cost and benefit, demonstrating reduced risk because the vehicle is safer, says Hanson.
In November, American electric vehicle firm Tesla launched its Tesla semi-truck, to considerable razzamatazz. The electric vehicle is built for a driver, but includes an autopilot and semi-autonomous features, such as automatic lane keeping, autonomous emergency braking and forward collision warning. Tesla's maverick CEO Elon Musk has already cut deals with the insurance sector in 20 countries on premiums for its vehicle, slated for production in 2019.
French AV manufacturer Navya has focused on developing autonomous vehicles for the bus and taxi market internationally. "It has experienced a surge in demand for pilots to trial the technology in countries such as US, Canada, UK, Germany and Singapore," says Stéphane Robin, casualty manager for AIG France.
In France, increased industry interest in AVs is driving demand for regulatory change. "While the established French manufacturers are applying pressure on government to improve the AV framework, it is domestic niche players like Navya that are making rapid progression elsewhere around the world," says Robin.
"Don't forget that France is home to major automotive engineering companies and given its proximity on mainland Europe it offers experimentation potential for cross border autonomous traffic – an important concept that has not been fully considered, particularly as highway codes differ from country to country," Robin adds.
Legislative countdown
The rapid pace of change to accommodate AVs will bring risks as well as opportunities into sharp focus, with much of the regulatory as well as development and testing work still to do. All of this means that many of the underlying assumptions around vehicles on Our roads could be about to change.
"It is more than 100 years between the first horseless carriage and the cars of today," says Jason Vallint, fleet safety strategist for AIG. "Autonomy has the potential to rip up the rule book and start again, after the century of experience built up in the insurance industry, laws and regulations. Here we are trying to compress all that knowledge into a space of just a few years, and it's a mammoth task."
A new legislative and regulatory environment must be built for an AV revolution to take hold in the decades to come. "The technology is there, but this is going to be legislation driven, to determine where and when," says Hanson at Wincanton.
Safety is a major focus of the new rules being drawn up. Driverless vehicles are widely viewed as a boon for road safety, lessening traffic delays, and reducing associated costs. "These vehicles are equipped with much increased safety features, such as light detection and ranging (known as Lidar), which the human eye cannot pick up," says Jay Parmar, director of policy and membership at the British Vehicle Rental and Leasing Association (BVRLA), a UK trade body.
"Most road accidents are caused by driver error," he says. "By transferring the risks to become automated, it's likely to mean reduction in road accidents and road fatalities. That improvement in safety won't happen overnight, of course. The road safety figures will take years to improve, as AVs begin to launch and become the norm."
Yet the legislation is at a very early stage, with a relatively short countdown. "For example, the Road Traffic Act regulation in the UK does not currently cover AVs," says Parmar. "The rules and regulations will need to be updated, beyond just those about dangerous driving. A whole raft of rules will be needed from government to support AVs."
The challenges are also multinational. The EU single market's open borders mean countries' regimes must be compatible with each other, although in practice EU dictums are frequently interpreted across member states. This legislative picture will take time to evolve. "The UK government has taken a particular approach. Other countries, such as the US and Germany, are also taking leading positions, but they are all doing things slightly differently," says Vallint.
Driving licences are another area likely to see legislative shifts, Vallint thinks. "Are you driving an AV or aren't you?" he asks. "By that I mean there's a good chance you will be driving it, at least part of the time. It's a concern for the company to employ someone who needs a specialist licence for a goods or passenger vehicle over a certain weight."
The different levels of autonomy (see first box) are likely to need different licences, just as driving a commercial vehicle, such as a truck of more than 3.5 or 7.5 tonnes already requires another licence in the UK. Clarity will be needed from regulators within the next few years if governments are to stick to their timetables for getting commercial AVs on the roads. "Legislation is definitely needed," agrees Wincanton's Hanson.
Roads and infrastructure will also need governmental attention to get from A to B in an AV. Minor roads, for example, are commonly not looked after to the same standards as motorways, posing problems. "Infrastructure needs dramatic changes," says Parmar. "Cars may not be able to recognise lanes if the lines are faded, for instance, or they may not be able to read existing road signs due to poor weather conditions. In the face of such problems an AV may come to a halt."
He suggests that infrastructure changes will be phased in over time, as the number of AVs increases, creating demand for their use across the full road network. "For example, just because electric cars are on the road, it does not mean that charging points have appeared throughout the country overnight. It's based on demand, and highways will take time to realise this," says Parmar.
Smart infrastructure could also pose problems for AVs, particularly if the vehicle receives mixed messages. "You could have different software telling the vehicle to do different things. It needs to be determined, by regulators and by the AV's software, who it complies with when you have, for example, a traffic warning that differs from what the vehicle's own intelligence is suggesting. Standards are essential." suggests Vallint.
Taking ownership
The rise of AVs could take more than just the driving away from drivers. It also poses far-reaching questions about where risk resides when something goes wrong. Valuable data and intellectual property will lie in the hands of the manufacturers and technologists. Much like trying to convince Apple you should be allowed to tinker with your iPhone, it seems likely that AV creators will closely guard the secrets of their machines.
This is a major sticking point for Parmar. He notes, for example, that sharing safety data, which could be done in real-time between AVs and smart infrastructure, concerning weather and driving conditions, has the potential to save lives as well as costs.
"There are significant road safety benefits if we have fair access to data," he says. "For instance, a connected car can work out if the brake pads are wearing out or the tyres are worn when taking the car in for its annual service, and generally, the car will be able to communicate with its owner much more intelligently. It's great to know vehicles are always safe, and that they can proactively contact the driver if not," says Parmar.
Access to such data is one topic which European Commission policymakers are looking at. "At the moment, manufacturers are taking a view that it will not be an open access platform," says Parmar. "But if it's kept on the original equipment manufacturer's server within a closed environment it would be much less use than if it could be held on a neutral server."
He would prefer data to be held on the vehicle itself, rather than a private server or paid-for cloud service, where it would be less accessible and messages might not reach drivers if they lose connectivity, if the AV is second-hand, or they have not paid a subscription. Big online firms such as Apple and Google already use control over the 'new oil' of data as market leverage. Parmar fears the same might happen with AVs. "At the moment it's a bit like the Wild West: there are relatively few rules in place; and each manufacturer can mostly do what they want without being held to account," he says.
"When you get a virus on your PC, you should get an alert. It's about where the onus of responsibility should lie. If you fail to download safety software and the car crashes, they would say that's your responsibility and you're liable for that. We've made it clear that manufacturers should send notice to the driver or firm saying their vehicle is subject to a safety defect or software update," he continues.
Changes to motor liability insurance are included within the UK's incoming AV legislation. The Bill maintains a single insurer model in which a motor insurer covers both the driver's use of the vehicle and the autonomous vehicle technology. The motor insurance market is preparing for a major overhaul in the years to come, expecting a shift from personal to product liability.
"In order for a fully workable insurance system for autonomous vehicles to be implemented, a clear definition of AVs is needed," says Mark Hemsted, a partner at law firm Clyde & Co. "This bill will give us a workable definition, although there are fears it may be too broad.
"We expect to see insurers and manufacturers agree a recovery process so that insurers can easily claim from manufacturers when an autonomous vehicle is at fault. While the bill retains quick and easy access to compensation for claimants, insurers need an equally efficient system of recovery. However, this is very much the first piece in the puzzle and we should expect further regulation as technology develops and the market gives its feedback," he continues.
For corporate fleet operators, Parmar suggests manufacturers are unlikely to accept liability if there are grounds that vehicles have not been properly maintained – installing software updates and the like.
Peter Odele, risk manager for road logistics firm Kuehne + Nagel, takes a more optimistic view of manufacturers taking ownership of liability for their own intellectual property in the event of a failure causing an accident.
"I would expect that in a normal fashion the manufacturer of the product is responsible for the efficacy of the product – that it's going to do what it's supposed to do. When the market is sufficiently developed, manufacturers will give guarantees, provided the vehicles are properly maintained," he says.
"I would expect the liability of the manufacturer to include reasonably foreseeable business interruption, and damage or injury caused by the technology failing. It's no different to a forklift truck that fails and collapses; if it's a manufacturing defect, that's the responsibility of the manufacturer," continues Odele.
A shift towards product liability could also be disruptive for firms' captive insurance structures, set up to self-insure, as well as for the insurance industry itself. Captive schemes for motor were not set up for this and it might cause them trouble, notes AIG's Vallint, perhaps requiring captive owners to seek additional risk transfer or reinsurance solutions. "For product liability [claims disputes] you can be in the courts for years," he warns. "Traditional motor business is quick in comparison – vehicles get fixed and are back on the road in a week," adds Vallint.
Taking a broader sweep, looking at directors' and officers' liability, Vallint highlights big risks to a company and its board, making keeping track of changing legal and compliance duties extremely important. "Should an incident occur, you'll want a clear audit trail to show the company was doing the right things," he says.
This is going to be particularly important as AVs, and their drivers or operators, climb the scale of automation from "hands off" towards "eyes off" and "mind off" (levels three and four, see first table). The blend between human and machine responsibility is most mixed in these middle sections of the scale, which could lead to confusion and complacency, as well as shifting compliance requirements.
"There is a duty of care, not only to employees, but to members of the public," says Vallint. "A whole raft of regulation is potentially going to hit you. There are the operator licence issues, for instance. In the UK, the Traffic Commissioner gives and withdraws the right to operate vehicles. If they find you negligent, they can shut down that licence, shutting you down overnight."
Climbing the scale
The term AV can, on face value, be misleading. It refers to a full spectrum of technologies that culminate in level five of full autonomy (outlined in the first box), at which point there is no need for a physical driver in the cab of a truck at all. Whilst technically possible, the reality would seem to be a while off, and it is at levels three and four that things could get proverbially interesting.
"Too many factors influence a fully automated journey," thinks Wincanton's Hanson. "It depends on the roads and the infrastructure, particularly on and off motorways. I expect there will be a move to partial autonomy first, with full autonomy much later. Truck manufacturers are thinking in terms of partial-automation."
Trevor Hewitt, group fleet engineer at Kuehne + Nagel, agrees that full autonomy is a long way off, noting much more modest technological innovations have only recently come online for haulage firms. "To be crude, it is still miles away from where we are now," he says.
"We are committing now to vehicles that will be working for us to the next eight years. We're enjoying level one automation with automatic braking and lane departure, which is an excellent safety feature," he says.
With some exceptions, many manufacturers have not been focused on AV tech. "In the past five years we have had CCTV fitted to the vehicles. They are fitted by a third party, whereas I want that to be integral. Cyclist censors also come from a third party. These are things we would use today if truck manufacturers fitted them," continues Hewitt.
Research and development has been more focused on alternative fuels and in meeting fuel emissions standards, going from the Euro 1 to the Euro 6 regime, he notes. "That process has soaked up millions and millions from each manufacturer. They're spending millions of euros on alternatives, such as all electric and all gas vehicles," adds Hewitt.
As AV technology ascends the scale, Vallint thinks level three is the riskiest stage, at which the machine is doing the bulk of the thinking, because a driver might still be asked to take the wheel in certain circumstances. "Any room for human intervention at a critical moment is likely to fail," he says.
The transitional period towards AV likewise poses risks in terms of human and computer driven vehicles sharing the road at the same time. Some of these factors already exist in today's driving landscape. There have always been good and bad drivers on the roads, while some cars already include a mix of low-level autonomous technologies like braking assistance and adaptive cruise control.
"There are instances of vehicles being involved in accidents, for example, because an AV will stop at a roundabout, even if it looks clear, creating the risk of rear-end shunt with the car behind," says Vallint.
"There needs to be consideration about how AVs communicate with other AVs, but also how AVs and human drivers can communicate with each other.
Lane systems splitting AVs from driven cars might even create innovative new pricing structures, Vallint thinks. "In the future there could be circumstances in which you might be able to upgrade the performance of the vehicle to get to a destination quicker. There could be a pricing mechanism around that, but upgrading to what: the motorway, the manufacturer, the vehicle?" he adds.
For fleet operators, in one respect the risks of individual AVs are just multiplied with scale. However, this is perhaps simplistic. Multiple AVs operating in convoy is one fleet-wide application. "Platooning is when the front vehicle leads, and the others follow behind, like an unconnected train," says Hewitt at Kuehne + Nagel.
Interoperability could be one risk area for platooned vehicles, depending on how the various vehicles firms' might be able to work with each other, Vallint suggests. "With operators potentially having trucks from more than one supplier, how would this work without common standards?" he asks.
Conversely, Wincanton's Hanson thinks connected vehicles offer multiple opportunities. "Connected vehicles are likely to be more efficient. If everything is connected, then you won't have the same delays and hold ups. You can also monitor the network and predict more accurately when a load will get to a destination," he says.
Fleet-wide rollout could also be significant in concentrating risks such as cyber-attack causing business interruption: if one vehicle is disabled, the convoy, or the whole fleet, might be taken down – potentially accumulating business continuity risk. "Cyber is a risk to any asset owner today, as with terrorism. It could happen to AVs, just as it can happen using or affecting vehicles today," says Hanson.
Vallint notes that AVs will need fewer stops, with no need to stop for driver tiredness, for example, and only having to halt for deliveries and refuelling stops, improving supply chain security. "The threat of cyber hacking and subsequent re-routing or stopping the vehicle becomes more the issue," he adds.
Driver not required?
One of the biggest questions about AVs is whether there will be any need for a human to perform tasks within the vehicle at all? In a future when all deliveries are driven autonomously, 'driver' might cease to be the right noun to use for such employees. Odele thinks humans will have a role to play "I don't know that you're ever going to be able to take the human being out of the equation altogether," he says.
Even today, drivers for logistics firms do much more than just drive. To list some of their tasks, they make the pickup, load the vehicle safely, converse with clients, complete forms, and they are responsible for the load as soon as it leaves the loading or warehouse area.
Hewitt shares his colleague's scepticism that humans cannot be removed from the equation. "We've got the long-haul drivers from London to Scotland and back, and hundreds of drivers who do ten or more deliveries each day to urban or rural locations. Even with AVs, you still need people to offload and deliver," he says.
Vallint highlights the importance of load integrity and loading a vehicle safely. "The load changes with each delivery that takes place," he says. "That may mean a driver physically getting into the vehicle and potentially moving the load by hand to stow and secure it safely. The risks increase if dangerous goods are involved, like flammable liquids or chemicals such as in paints; how would AVs cope with these circumstances?
"Some trailers have kit to do some of that, such as lifting mechanisms, pumping machines and temperature controls. If that is all done robotically, then the vehicles need to be clever, otherwise an employee will still be responsible, because there's a lot of other non-driving work to be done with the vehicle," he adds.
At present there is a shortage of trained drivers. Ageing populations across most of Europe mean there will be an overall driver shortage in the decades to come – providing a further stimulus for AVs. "There is already a steady decline in the availability of drivers. It's being exacerbated by Brexit now, as we're not seeing an influx of European workers in the UK," Odele notes.
Assuming humans are still required, the skillsets needed will change drastically. Unemployment is a common political and economic fear, while there is also a conversation across industries about upskilling staff as robotics come to play a greater role.
"One of the top headline revenue benefits of AVs is that you improve productivity," says Vallint. "Staff can engage in other valuable activities and delegate other tasks to the vehicle. But will the regulations around driving also need to be amended, such as drivers' hours, rest breaks, hand-held mobile phone use, etc?" he asks.
Vallint notes that if the autonomous aspect of the AV causes a breakdown, whether it can be driven temporarily by a human driver could be a business continuity factor. "If professional drivers are no longer required, would employees with the necessary skills be available?" he asks.
"It's clear that we've potentially opened up a Pandora's box of risks as well as opportunities", concludes Vallint, "but one of the most positive things is that people are thinking about them now."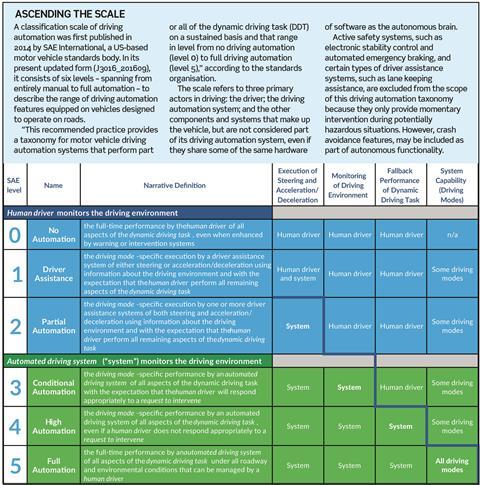 Six questions to consider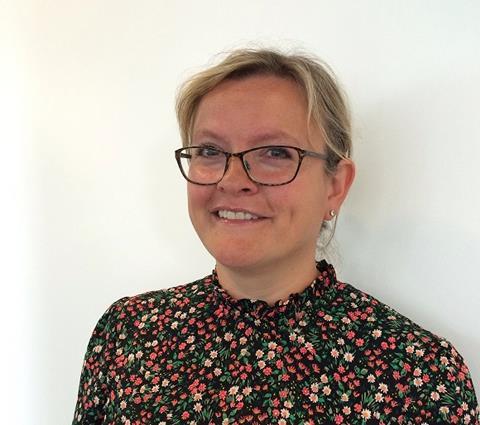 Sarah Dyer, head of AIG's transportation industry practice group.
These vehicles are already here. It is only a matter of time until they are fully tested and on our roads, travelling solo or in convoy – with or without humans on board. Indeed, research conducted by AIG in October 2017 found that 37% of employees think their company would offer them a driverless vehicle as part of a company car programme in the future, and 50% of small business owners would consider using a driverless vehicle for their business.
Here are some key considerations:
• Should there be a cyber-attack, what could a terrorist do with a large lorry if they took over the autonomous system? They could use it as a weapon. They could steal the cargo on board. They could use it to cause chaos. They could potentially cause huge damage to the brand of the company to whom the vehicle belongs.
• On the commercial motor side, could a cyber-criminal lock the driver / load manager in a cab, and control the vehicle, diverting it away from the route to steal the vehicle load?
• What will the cost to fleet owners be for these new vehicles; from an insurance perspective, how long will it take to amortise the cost?
• How will companies encourage new employees to take jobs as a"vehicle manager" that, due to the pace of change, could eventually become obsolete?
• What about infrastructure – how will our roads cater for autonomous vehicles? Should they have separate lanes on the motorway; will they operate on normal roads; and what will be the cost to the government and taxpayer?
• How will the insurance industry deal with these questions? Whose liability would it be in the above scenarios?
In our transportation industry group, we are engaging with customers in the supply chain to work side by side with them to find the answers to these questions and develop solutions that will keep pace with the times.
Sarah Dyer is the profit centre manager for the AIG UK marine division and leads the insurer's transportation industry practice group.
Dyer worked as a logistics and quality control manager in the metals industry, before moving to marine insurance broking for Marsh and Aon.