Avoiding collisions in the air was the topic of an aviation risk presentation by the UK Airprox board at Lloyd's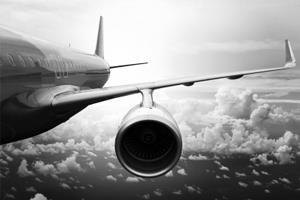 Near misses of collisions in the air – known as airprox – take place at a rate of about 25 per month in the UK.
Drones have added to the volume of airprox from 2016, causing more near misses in the UK's already crowded skies.
This was the topic of an aviation risk presentation held today at the Lloyd's of London library in the City of London.
Recent years have seen a rise in overall airprox incidents (see charts 1 and 2), but this is mostly attributable to a rise in drone-related near misses since 2016.
There were 265 airprox In 2016 – the last year for which full data are available – with 171 of those events not involving drones.
Some 58 of the events that year were judged as "risk-bearing", said Steve Forward, director of the UK Airprox board, giving the presentation at Lloyd's, held by the Insurance Institute of London.
Human risk factors are far and away the biggest causes of near misses, against technical, organisational and environmental factors.
The summer months are riskiest, with more near misses due to green pilots or complacency, suggested Forward, a former fighter pilot, who led the air security planning for the London 2012 Olympics.
For every crash, there are about 20 risk-bearing near-misses, assessed subjectively as 'A' collision risk and 'B' safety not assured, as well as a further 60 further Airprox rated as 'C'-'E', not judged as risk-bearing.
The risk rating system is a matter of interpretation, stressed Forward.
He also emphasised that his organisation – backed by the country's civil as well as military aviation authorities – focuses on disseminating safety information and does not report any wrongdoing or apportion blame to the various parties involved in near misses.
"We're concerned about safety, not just distances or speeds," said Forward, noting the huge variables in relative speeds and distances that represent risks according to different aircraft and circumstances.
Airprox also include near misses on runways on the ground, and incidents involving not just planes but balloons, blimps, gliders or parachutists.
Forward noted that for pilots, a combination of keeping a sharp lookout is an important factor but only partly effective – he recommended an average 80% of the time looking outward, versus 20% spent looking at instruments.
Situational awareness and collision warning equipment also reduce the risk, Forward noted, but warned such technology is "not always compatible with equipment on other aircraft, which leads to problems".
He summed up a number of factors that increase safety: lookout, communication, electronic conspicuity, insight, prioritizing tasks, and defensive flying (presuming the other aircraft will not move to avoid).
Transponder mandatory zones (TMZs) are concerned with regulating access to airspace, not preventing collisions, Forward said, suggesting he could not see evidence of TMZs reducing the volume of near misses.
The UK Airprox board is encouraging research and development into electronic visual detection technology to help avoid collisions.
Forward noted that the human eye is not good at detecting objects coming straight for it, versus things moving from one side to another, as well as the potential for people to get distracted.
"Cameras just stare – they don't get distracted," he added.