How geological and other challenges are being overcome in The Metro de Lima project in order to bring a much needed transportation system to Peru's capital city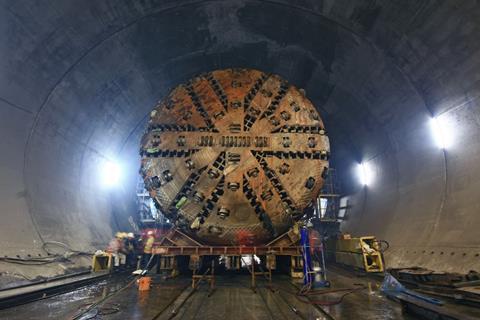 With a population of nearly 10 million, making it the fifth largest city in South America, Lima is long overdue an underground mass transportation system. The city is infamous for its traffic issues and chaotic congestion, particularly during rush hour. However, this is starting to change, with the first phase of the city's metrorail system opening in 2011 and construction underway on the second.
At the heart of the $4.5 billion Metro de Lima Linea 2 is the excavation of a 35 km long , 9.3 metre-wide, single bore tunnel. When completed it will boast 35 underground stations, two large train depots and 27 ventilation and emergency shafts. The project is the largest ongoing civil project in Latin America at the moment.
The project faces three major challenges, according to Andrea Belli, senior underwriter, Engineering and Construction, Swiss Re Corporate Solutions, namely the need to carry out works beneath a densely urban environment, the unique geology beneath Lima and the city's high exposure to earthquakes. The project is the first time that a tunnel has been excavated through the city's geology, with the bulk of the work carried out by tunnelling boring machines.
"It is the first time ever that a bore tunnel – that is a tunnel excavated in the ground from end-to-end - has been carried out below the city of Lima and/or in the Lima type of geology, which is called the alluvial Lima conglomerate," he says. "It is a sandy gravel with rounded water-worn boulders, which is particular of Lima and has rare similarities around the world, aside from some locations in Chile."
"This is quite a challenge not only for the JV contractor carrying out the works, but also for parties like us who are insuring the risks related to the execution of the project."
From a Swiss Re Corporate Solutions perspective, Metro de Lima Linea 2 is one of the largest that has been recently bound within the Department of Construction. Swiss Re CorSo has worked closely and collaboratively with the contractor's JV throughout the project to date, bringing in its own team of risk engineers to carry out regular surveys and offer recommendations.
"The contractor was very experienced but was not fully aware of the TCOP," explains Belli, a code of practice for the minimization and management of risks in underground works. This was a further challenge because in such circumstances like these where there is so much that is unknown, insurers would normally rely on the TCOP for ensuring the best approach to risk management"
"We did not want to increase the burden on the contractor, but at the same time we wanted to focus on minimising the risk," he continues. "So given our experience of tunnelling standards in northern Europe and the TCOP, we decided to focus in particular on this aspect during our risk engineering visits carried out on a regular basis."
"During these visits we assess whether the insured is following substantially similar procedures that are outlined in the TCOP," he adds. "And we have been satisfied that for the most part they are effectively following very similar standards with the exception of some gaps. Having identified any gaps that we considered important, we requested the implementation of relevant complementary procedures. This all worked smoothly in an atmosphere of constructive collaboration where our advice was taken onboard and complied with."