PM predicts cuts will continue until 2020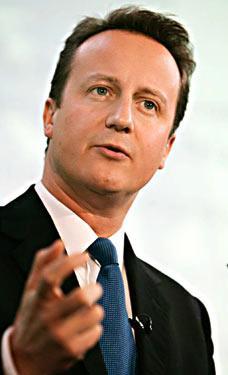 Prime Minister David Cameron expects the eurozone crisis to continue for some time to come, damaging the British economy.
Speaking in an interview with the Daily Telegraph the Prime Minister revealed that he could not "see a time when difficult spending choices are going to go away."
"This is a period for all countries, not just in Europe but I think you will see it in America too, where we have to deal with our deficits and we have to have sustainable debts", he said. "I can't see any time soon when… the pressure will be off."
The austerity measures announced by the Coalition Government after the 2010 elections were initially expected to be finished by 2015, but were extended to 2017 last autumn in a move designed to ensure a further £30bn in savings. The PM now potentially faces a further term of spending cuts were he to be re-elected.
Cameron's comments come in the wake of IMF reports sharply cutting the UK economy's growth forecasts, and the Conservative leader admitted that he had not anticipated the extent of the problem: "We are in a very difficult situation", he said. "There is some good news, we've just seen inflation fall again. But, I don't deny for a minute that it is a lot tougher than the forecasters were expecting."
However, he did sound a note of optimism, insisting that the economic situation "doesn't mean that you can't cut people's taxes…You can do exciting and radical and Conservative things at the same time as having difficult overall spending choices." The Prime Minister also said that he believed that the public were "withholding judgement" on his premiership, but recognised the need for spending cuts.
"They [the public] want to know, what I want to know, that at the end of this, have you built a more worthwhile country, a society based on a set of values, where if I work hard and do the right thing I get rewarded rather than stuffed", he said. "That, I think, is in a nutshell what people want."
On the final day before Parliament's six-week summer break, Cameron also revealed that he would never support a referendum to leave the EU, and promised that he would be travelling to the Olympics on the Tube accompanied by key business leaders.
Link to Daily Telegraph interview:
http://www.telegraph.co.uk/news/politics/david-cameron/9410053/David-Cameron-no-end-in-sight-for-austerity.html