Pledge makes China Africa's primary trading partner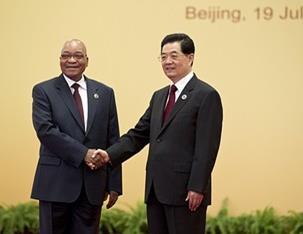 China has pledged $20bn to Africa over the next three years and called for greater international coordination to counter what it perceives as the "bullying" of western powers.
Speaking at the Forum on China-Africa Cooperation in Beijing, President Hu Jintao sought to strengthen the trade parternship and fight the practises of "the big bullying the small, the strong domineering over the weak and the rich oppressing the poor".
The move, designed to aid manufacturing, agriculture small and medium-sized businesses in Africa, further consolidates China's position as Africa's main trading partner.
"China and Africa should strengthen political mutual trust", said Hu in a speech to African leaders, adding that China would "continue to expand aid to Africa, so that the benefits of development can be realised by the African people".
However, critics argue that China overlooks abuses in African countries with questionable human rights records to ensure access to raw materials. Chinese companies in Africa have repeatedly come under fire for using imported labour for government-backed infrastructure projects.
The pledge sees China's lending to Africa grow further, with Chinese imports from African increasing from $5.6bn to $93.2bn in under a decade.