As war and conflict increasingly creep across the globe, organisations must reconsider how they do business in volatile countries and, indeed, as the situation in Libya demonstrates, just who they're doing business with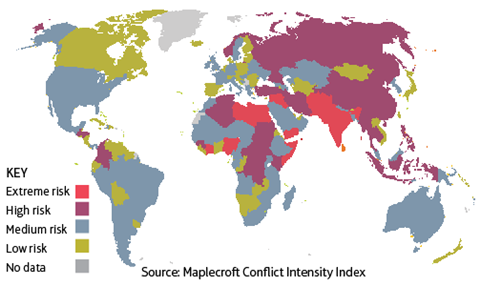 War risks in several parts of the Middle East and Africa are intensifying, posing significant threats to international businesses in these regions, including probable asset damage and supply disruptions.
A recently published conflict risk index warned that 12 countries in these volatile regions are rated 'extreme risk'. The Arab Spring uprisings have accounted for an increase in violence in several parts of the Middle East.
India, Afghanistan, Cote d'Ivoire, Libya, Iraq, Pakistan and South Sudan are the deadliest parts of the world, according to Maplecroft's third annual Conflict Intensity Index, a tool developed to assess ongoing trends for conflict and potential risks to operations and investors.
Libya, which rose from 120th in last year's index to fourth this year, has a death toll running into the tens of thousands, making its civil war the deadliest conflict of 2011.
"Conflict exponentially increases the risk of doing business within a country, as operations are disrupted and employees and assets are endangered," comments Maplecroft analyst Jordan Perry.
"This threat was all too apparent to the oil majors in Libya, as they evacuated employees in response to the violence. Ongoing monitoring of political risk …
is essential for companies to ensure business continuity."
Volatility in central Africa is also intensifying. "Civil war is spreading in Sudan, and concerted international action is needed to stem the violence and prevent it from engulfing the entire country and the wider region," the International Crisis Group (ICG) has warned. Hundreds of thousands of people have been displaced by the conflict in Sudan - at least 20,000 of these people have fled into Ethiopia. "The situation will escalate if the international community is delayed or disjointed in its response," ICG stated.
Top 10 at-risk countries
Afghanistan
Côte d'Ivoire
Iraq
Libya
Pakistan
South Sudan
Syria
Nigeria
Somalia
Yemen
Source: Maplecroft