A recent survey revealed major problems for companies trying to recover debt. Elliot Howard, Director of software solutions specialist Sopra Group, who have commissioned the research, explains why these numbers mark an urgent call to action for the risk management profession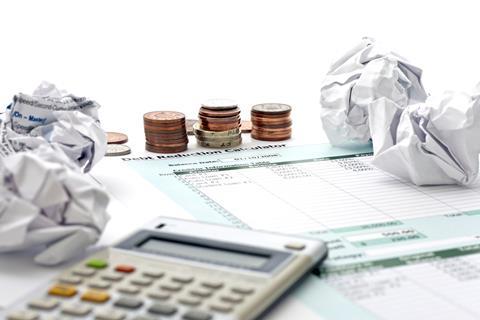 We've just completed a major survey into credit collection and its main results point to major risks for British business. The research company that performed the poll told us the results were "unprecedented" in terms of the high numbers it came back with.
Specifically, we balloted senior finance professionals and board-level management at UK private sector companies, finding nearly three-quarters are experiencing serious issues in recovering debt. Respondents cite the fact debt collection is slower, less successful and more resource-intensive.
A huge 85% said debt is taking more people/resources to collect. Another equally high number, 81%, believe that debts are taking longer to be paid back leading to escalating costs and financial pressure.
This is the alarming backdrop against which the most astonishing results emerged: an almost 20% increase in debt cases forecast for the next year, with 43% saying they expect volumes to increase by more than 20%.
Asked to name the greatest challenge in debt collection in the next 12 months, the issues that loomed largest were increases in costs, extended payment timeframes and lack of resources."Overall costs of servicing debt are increasing rapidly. We are faced with high costs of debt collection (staff, premises, IT) and debt servicing (bank charges, higher interest rates and borrowing charges)," warned senior management at a leading retail company. The challenge faced by another is summed up as, "The amount [of debt], and not sufficient resources," while "Increasing costs and overheads involved in collecting debts" is an issue for yet another.
The crisis situation we're facing is best crystallised by this quote from a debt collection manager. "Debts will take longer to recover; debtors will take longer to decide which debts they will repay." With economic conditions such as they are, not a wholly unsurprising response, but deeply troubling for companies trying to maintain cash flow and build a platform for economic recovery.
The results strongly suggest current systems and processes require attention, with only 30% confident their system will cope with extra case loads. All in all, it's a risky outlook for business unless some radical process overhaul and technology spend is set in motion.
Get smart – or you may not survive…
With the ongoing "overdraft" at national and consumer levels, businesses need to get smarter at deciding who they give credit to and how they collect monies owed. At the same time, internal systems and processes cannot be left to drift in a parlous state. Managers admit to a weak and failing collections infrastructure, and these resource burdens are set to worsen given the feared increase.
On the positive side, the survey showed that senior managers know that they need to find a way to deal with these risks. Risk professionals can be assured that advice on debt collection and credit control best practice will be listened to and there will be follow through.
But without question, urgent action is required. While there is clearly a will to change, there's no denying the debt problem and the issues businesses have in dealing with it.
Businesses not taking action – beware!
Elliot Howard is Director at Sopra Software Solutions in the UK (www.sopragroup.co.uk), a provider of credit collection management software. The free survey report is available here http://www.sopragroup.co.uk/creditresearch2012