Effective risk management processes and comprehensive fire prevention strategies can help reduce the likelihood of high-rise fires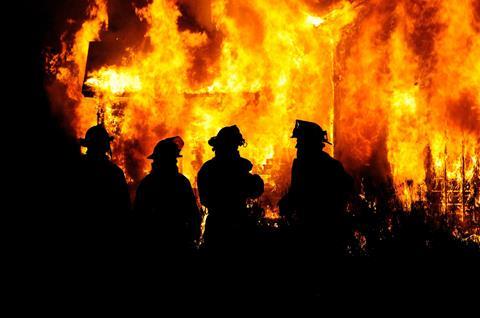 Effective risk management processes combined with comprehensive fire prevention strategies can help reduce the likelihood of a major high-rise building blaze, according to a leading fire safety expert.
Hermann Frankfurth, FIFireE and risk engineering manager at DP World UAE, told delegates at the recent Dubai Executive Briefing organised by StrategicRISK's sister title Global Reinsurance, that fires were no more likely in tall buildings than anywhere else.
"However, they are more difficult to put out and to control their spread," he said.
Frankfurth was speaking following a spate of high-rise fires in the UAE in recent years – most notably, the new year blaze at The Address Downtown in Dubai.
"Eleven of the top 30 high-rise fires in the world since 2010 have been in the UAE," Frankfurth said. "Part of the reason for this is the predominance of high-rise towers here."
According to the National Fire Protection Association 101 Life Safety Code 2009 edition, a high-rise building is technically defined as one which is higher than 23m (roughly seven storeys).
Under that definition, Frankfurth said, some 690 UAE buildings were considered high-rise. Of those 238 are "skyscrapers" more than 100m in height and 448 are between 35-100m. Crucially 536 of these buildings were constructed before 2012 and 130 since.
That date, said Frankfurth, was crucial, in understanding and assessing fire risk in high-rise buildings. He explained that 2012 was an important year as a new building code was introduced in the UAE relating to cladding, the flammability of which has been a major factor in several of these fires.
There were, Frankfurth said, several common factors in UAE fires. "They are similar to other building type fires in that they start due to lack of smoking/open fire controls, unsafe hot work practices or electrical problems," he said.
"Add to this the penetration of the structure of lift shafts, garbage chutes, electricity, air conditioning, water piping, sanitation lines and atriums.
"There is also the façade [exterior cladding] some of which use combustible materials mostly for support or insulation. These expose the building enormously to the risk of fire, smoke or heat spreading."
Frankfurth illustrated his point with a video of The Address hotel fire, which showed how rapidly the flames went up the outside of the building in what he described as a "vertical spread".
Prior to 2012, the UAE Fire and Safety Code (95) did not set any requirements for the fire resistance of exterior wall materials.
Frankfurth said that was changed as a direct response to the number of fire incidents in high-rise buildings, predominantly involving metal composite materials.
Towers constructed from 2012 that are more than 15m high or less than 3m from a boundary must comply with the new regulations.
However, due to the large number of high-rise properties built prior to 2012, fires have continued to occur, so the laws are being tightened further, said Frankfurth.
A new edition of the UAE Fire and Life Safety Code of Practice was likely to be issued shortly, Frankfurth said. This would be followed by a database of "at risk" buildings.
"At present the rules prevent the sale of banned materials in the UAE but this is not enshrined in law and therefore not enforceable," said Frankfurth. This anomaly is expected to be addressed under new code changes.
Frankfurth told delegates there were several key stakeholders in safe building design and protection. These included owners, operators, installers, contractors, consultants, architects, designers, inspectors, authorities, tenants, regulators and manufacturers. Insurers also had a key role.
As the former head of AXA Matrix in Dubai, plus 18 years in the insurance industry as a risk consultant and engineer, Frankfurth is uniquely placed to comment on how insurance and risk management can work together on building safety.
"No organisation or company can afford the reserves or have the funds available to pay for fatal losses when a large fire occurs in a high-rise building," Frankfurth said.
"Without proper risk management and adequate insurance, businesses which suffer major fires go out of business within two years of such a loss."
As such, insurance is a valuable risk financing tool. Frankfurth outlined how insurers sought to ensure "good" risks in terms of high-rise property. This included adequate segregation – separating hazardous areas and using non-combustible materials in the construction.
Having different design options and being able to evaluate the building against an acceptable recognised standard such as those established by the NFPA or FM Global were also important. In addition, it was imperative to have adequate policy procedures and working methods to minimise the causes of fires.
Some of these issues also raise concerns for insurers who acknowledge it is difficult to recommend and improve the separation of risk and that changing to non-combustible construction and separating or moving hazards is expensive.
Fire and safety measures were normally an insurer's only option for improvement, Frankfurth said but these would not always minimise losses.
In terms of effective solutions, Frankfurth said it was crucial to make sure all parties involved took responsibility for ensuring compliance to safety measures from the outset. That included property owners working with their insurers and also alongside designers, architects, construction companies, building management, operating companies plus tenants and the wider public.
Among a series of practical suggestions to achieve this, Frankfurth recommended making sure approved fire safety consultants were appointed at the design phase of projects and that authorities and insurance companies undertook regular inspections.
Owners and tenants should be educated on adequate fire prevention measures and protection, while recognised authorities, insurers, designers, consultants and contractors need to liaise to develop a common understanding of fire protection standards and requirements. Better education on fire safety for all these entities is required.
In addition, all new construction projects should be prevented from using any form of combustible material such as cladding assemblies.
Sprinklers did save lives and protected property from fires, Frankfurth said. "But don't think you have a fully sprinkler protected building when you have a highly combustible building façade."
For the many buildings constructed with such material before 2012, there was no easy remedy. The most effective solutions, Frankfurth said, were costly and drastic.
"We need to sell to building owners and the local authorities the importance of retro fitting buildings to remove and replace these dangerous facades."