66% of top performing companies have CEOs that champion ERM
Enterprise risk management is increasingly being recognized as a key component of successful companies. A recently released report by the Aberdeen Group emphasises the importance of ERM to business sustainability.
The top three ERM strategies are:
Implementing processes that align risk management with compliance
Building a risk aware culture throughout an organization
Securing senior management support of risk management initiatives
With increasing awareness of risk management strategies, difficult economic conditions and changing regulations, more companies are adopting the ERM approach.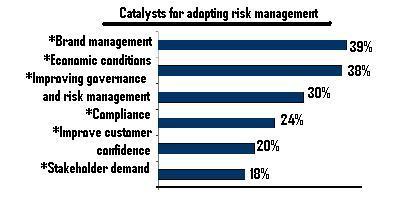 ERM can reduce corporate liability significantly and the report says that "Business partners, regardless of their role in the value chain, will always prefer to do business with companies possessing lower liabilities."
The report underlines the importance of corporate culture that is often established by management. 66% of successful companies have ERM fully integrated at the highest level.