Allianz's head of entertainment, Lauren Bailey, discusses how entertainment risk has transformed and why this means that insurers and risk managers must work even closer together at Brokerslink 2019
Entertainment, whether that's film, TV or music has completely transformed over the past 40 years, explained Lauren Bailey, global head of entertainment at Allianz Global Corporate & Specialty.
She was speaking at the annual Brokerslink conference in Bordeaux, firstly about how the entertainment industry has changed, and then about the opportunities and lessons this creates for the insurance industry.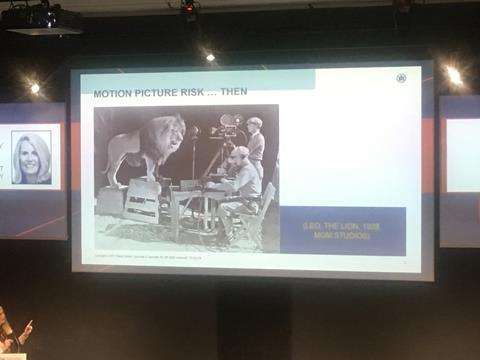 One of the biggest shifts, particularly in Hollywood, has been budgets. For instance, the first James Bold film, Dr No, was released in 1963 and had a budget of $1.1mn. The most recent James Bond film, Spectre, had a budget of $300mn.
And these budgets continue to grow. In 2009 Avatar had a budget of $425mn, the highest to date, but Bailey says that there are films being made at the moment that cost event more.
Of course, with production rates this high the risks are changing and the opportunities for insurers like Allianz are growing.
Some changes are eliminating traditional risks. For instance, the use of CGI (not to mention modern sensibilities) means that you no longer have MGM cameramen just metres away from lions recording their roars.
But on the other hand, audience demand for faster chase scenes, bigger explosions and more intense fires come with substantial risks of their own. For instance, Bailey shows a clip from the helicopter chase scene in Spectre. The helicopter was real, and that's one risk, but the other big risk is the second helicopter, mimicking the stunt pilot so someone can film it all.
Explosions and fires are tricky too. The obvious risk is controlling these events, so you only burn or destroy what you meant to, rather than dealing with a fire that gets out of control. But also – with really big explosions, if a take goes wrong for some reason you have the immense cost of reshooting the whole thing.
Bailey said: "Stunts and pyrotechnics have changed dramatically, and the expectation of audiences really drives a lot of this. That will continue to drive risk and that drives the need for insurance."
She also discussed the transformation of risks in music and other live events, which has followed a similar path. She showed two pictures of Rolling Stones gigs – one that was taken in 1964 and one at the more recent Bigger Bang tour that at the time was the highest grossing musical tour in history.
In 1964 there was just the band and the stage, people were sitting in their seats and enjoying the music. That rarely happens anymore. The Bigger Bang tour needed 343 trailers to transport three stages from location to location.
Meanwhile a recent U2 tour had a 200-tonne arachnid that formed the stage, a one-million-piece video wall, a crew of 300 and a budget of $750k a day.
"Imagine the different elements of risk and safety involved in that show and the planning required to make sure that went off safely," Bailey said.
Obviously, this growth in risks means more opportunities for risk managers, insurers and brokers who are involved in the entertainment sector, but Bailey also thinks there is a key lesson for anyone in the insurance industry.
In entertainment, no two films, or tours or adverts are alike, and that means no two risk management strategies can ever be the same. Of course, this is largely true for businesses in many different sectors.
The answer, according to Bailey, is more collaboration.
She concluded: "Risk is evolving and changing and you're identifying new exposures and solutions. Clients are diverse and demanding, making sure that we think about their business on a global basis.
"Those demands create opportunities for us. To work with clients, to become more creative and to really expand the consultative component of the business. When we work together that's when we achieve the best outcome."