Patrick Smith steps down from his role as Airmic chair during the conference. How was his year in the hotseat, and what advice does he have for his successor, Clive Clarke?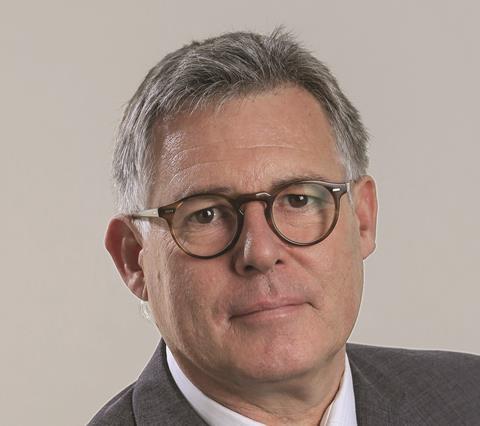 Patrick, you are coming to the end of your year in office as Airmic chair. Have you succeeded in meeting all the objectives you set?
Yes. My primary objectives were to help Airmic become a best-in-class membership organisation, creating a platform for growth and engagement – by focusing on Airmic being the best it can be and meeting the changing needs of our members.
We have made substantial progress, including our second fastTrack Forum, the launch of the Leadership Advisory Board and maintaining an impressive array of learning and development activities for members at all levels and stages of their career.
What do you think has been your biggest achievement over the past 12 months?
I am most proud of two things. We embarked on a series of strategic activities last summer focused upon the sustainable development of Airmic, our growth and effectiveness and, ultimately, as with any other business, growing the business and engaging our customers to the benefit of all of our stakeholders. This is driving new initiatives, supported by the Membership Steering Group, which I chair and which ensures that our members are at the heart of all that we do.
Second, driving our risk agenda, as against pure insurance, has been a key focus area. This has driven our work to prepare for Airmic's first ERM Forum, planned for later in the year and a balance of our technical output. I believe that this will create new dialogue with existing members and increase the attractiveness of risk professionals who either perceive (and perception is reality) Airmic to be insurance-centric or who, in fact, have not heard of us. This drive will grow our organisation, enable us to maintain our thought leadership position in risk matters (insurable or not) and will broaden the dialogue that our partners want to have with our members and their organisations.
Were there any unexpected challenges?
Nothing terribly challenging, but we live in a world of constant change and disruption. While market merger, acquisition and challenging trading conditions have changed our partner portfolio, we maintain great relationships across the whole industry and it has allowed more organisations to come into the fold, support Airmic and drive benefit to our members.
I also recognise that the type of pressure in the risk and insurance market is, in fact, totally consistent with the challenges across all sectors of commerce. It is a challenging time for our members in their organisations, hence our efforts to develop leadership skills as well as technical skills to support them in their efforts to drive real, tangible benefit to their companies and to support the realisation of the value that risk and insurance management can make.
What advice do you have for your successor, Clive Clarke, when he takes over the chair this week?
Momentum is everything! The continual strategic development and ambitions for Airmic is a journey. I would like to see ongoing focus on the skills and competencies required of our members in an ever-changing world. Leadership skills are key and to Airmic as an organisation, broadening the scope of appeal so as to drive growth, retention, widening member profile and advantage to our partners is vital.
Clive will benefit from the new website and CRM system and the full support from me and an experienced, diverse and talented board. This will help him "make Airmic personal" and continue to develop Airmic's impact as thought leaders.
We hear a lot about innovation changing the way in which organisations are run and how some are struggling with relevance. How can Airmic stay relevant for its membership in the future?
Recognising that Airmic needs to innovate in a disruptive world is vital. Investing in technology and creating new and exciting ways for members to engage, together with looking at the membership as segmented communities (eg fastTrack, LAB, ERM etc), is the key to unlock our potential.
Last but not least, listening clearly to the needs of our members, anticipating change and harnessing the skills and talents of our partners is vital.
And of course, delivering the high-quality technical agenda that, in the past has delivered so much value to individuals and the industry as a whole; through matters like the Roads to Ruin series and the Insurance and Enterprise Acts.
You have done a lot of work with Airmic's fastTrack group – an excellent initiative for risk managers in the early part of their careers. How is this developing and what are your next plans in this area?
FastTrack has been an amazing success and now is firmly part of our L&D agenda. What it has highlighted is that the insights into career development and leadership competencies is certainly not confined to those new to risk and insurance or to responsibility for it. I would expect us to be broadening some of the learning opportunities to a wider community, where fastTrack has proved such an effective test bed.
Discovering and nurturing the talent that will emerge to seniority in the coming years is something that I expect Clive will focus on and that will, in its part, ensure that talent is attracted to risk and insurance and that its reputation incrementally increases as a career of choice for smart people.
Harrogate is a new venue for the Airmic conference circuit. What are you most looking forward to over the next few days?
Obviously, the workshops and networking opportunities are hugely valuable. Meeting old friends and meeting new ones is always great fun. I think Harrogate will have a different feel to usual 'city centre' venues and I am hopeful that all attendees will appreciate this difference. I am looking forward to a great conference!