Global businesses are already having to tackle the effects of climate change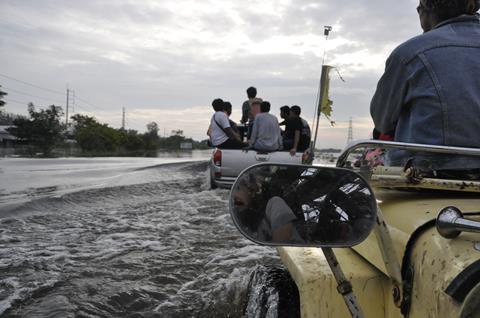 Consumer goods giant Unilever says that, in 2011 alone, climate change cost it €200m, mainly because of drought and flooding. For that reason it has revealed plans designed to address the impact climate change is having on its operations.
Not all businesses are taking such proactive steps. Those that are tend to be global and therefore exposed to extreme weather in the developing countries, where the impacts of climate change are likely to be felt hardest (see infographic opposite).
Rio Tinto, the world's third largest mining group, is one of those taking it seriously. It has launched two extensive studies to understand how the climate is changing and how that is going to affect its operations around the world.
Worse in southern hemisphere
These studies predicted that Rio Tinto's exposure would vary depending on the location of its activities. North American assets, for example, are probably going to be affected less than those in the southern hemisphere, where more intense cyclones and drier conditions are predicted.
Rio Tinto uses lots of water in its mining operations so, unsurprisingly, the chief issue it foresees is either having too much (floods) or too little (droughts). In response, the mining group has developed a strong water-use strategy. And it's not all pie in the sky. Recently Rio Tinto has been hit hard by some extreme weather, wreaking havoc with its operations in several parts of the world.
Earlier this year, for example, cyclones temporarily closed ports along the Pilbara coast of Western Australia, hampering Rio Tinto, which posted "lower than expected" iron ore production. One of its competitors, BHP Billiton, was also struck by Australian cyclones and said iron ore production fell 8% as a result.
Mass evacuations
Back in 2010, when Australia was hit by the worst flooding in decades, causing mass evacuations across Queensland, Rio Tinto was forced to declare a "force majeure" at fourQueensland coal mines.
"The real-world ramifications of climate change are already being felt," says Eileen Claussen, president of the Pew Center on Global Climate Change. "In addition to policies that reduce greenhouse gas emissions, we also need strategies to adapt to those climate change impacts that are unavoidable."
Another sector likely to be hit hard is the insurance industry. Last year was the costliest on record for natural disasters. At about $380bn (€290bn), global economic losses were nearly two-thirds higher than the previous record in 2005 of $220bn, according to reinsurance company Munich Re. Five of the 10 most costly natural disasters occurred in the past four years and nine of those were weather-related (floods, storms, hurricanes and so on).
Reducing exposure
In response, property and casualty insurer Travelers is trying to reduce exposures to extreme weather events for itself and its customers. The insurer says it is encouraging disaster awareness and preparedness among homeowners and commercial customers, to try to reduce the risks for both parties.
Also making efforts to mitigate the impact of climate change is New Orleans-based energy company Entergy. After suffering a $2bn loss from Hurricanes Katrina and Rita in 2005, it is taking steps to adapt to a changing climate by moving business-critical assets away from natural-catastrophe-prone areas.
"We're still trying to take the next steps," says Entergy's director of corporate environmental programmes Brent Dorsey. "But it's like alcoholism - admitting there's a problem is the first step." That is a sentiment that other companies may want to consider as they plan for an uncertain future.
Top five
Solar storms
1. Sept 1859
The Carrington Super Flare was the most powerful solar storm in recorded history, causing huge disruption to the telegraph.
2. March 1989
A severe geomagnetic storm disabled satellites and tripped circuit breakers on Hydro-Québec's power grid.
3. August 1989
A burst of solar activity halted trading on Toronto's stock market for three hours after three disc drives failed on what wassupposedly a "fault-tolerant" computer system.
4. January 1938
The Fatima Storm interrupted all transatlantic communication and hit railway signals across England.
5. April 1938
Known as the New York Railroad Storm, it halted communications traffic from the Atlantic Coast to the Mississippi.