Ferma president Peter Den Dekker explains how the availability of insurance solutions is more important to buyers than cost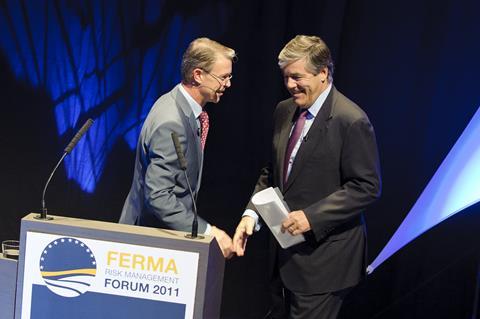 "Price is not the most important thing for us [commercial insurance buyers]. It is important, but we are mostly looking for solutions and capacity." That was the message to industrial insurers from Peter den Dekker, president of Ferma at the opening of the Ferma conference in Stockholm on Monday 3 October. He also strongly urged insurers not to use the looming Solvency II regulation as an excuse to "hike prices" in the commercial insurance market.
Also giving a keynote speech was Deutsche Bank chief executive Josef Ackermann (see picture above). He presented a worrying outlook for financial services in Europe.
"Sentiment indicators suggest the global economy is on the brink of a sharp slowdown. And uncertainty about sovereign debt lies at the heart of this market turmoil. As long as this persists, it is almost inevitable that we will see tremendous asset price volatility."

Deutsche Bank chief executive Josef Ackermann
Growth prospects for the financial sector in the West are limited, said Ackermann. "Reducing public debt will entail a long period of austerity … it is highly probable that growth rates will be below their long-term trends for some time. All of this is taking place while we are trying to control risks in our daily business in a highly uncertain environment."
The world must come to terms with a huge shift in economic might from the West to emerging markets in the East. "The share of emerging markets in global GDP will probably rise above 50% for the first time this year. While Europe's share of global GDP will be around 20%," Ackermann said.
Ackermann's is a troubling prognosis for Europe's risk managers – a view that Den Dekker expressed when he returned to the stage. Europe's businesses will have to learn to live with this new economic reality as they grapple with changing dynamics in their own organisations.