Central Europe worst affected in a series of floods that have caused huge damage, says Munich Re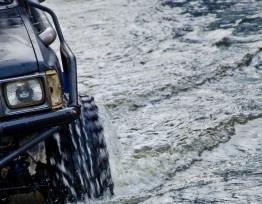 A series of natural catastrophes in the first half of 2013 have caused damage totalling around $45bn, with $13bn insured losses worldwide, according to Munich Re.
The reinsurer said 47% of overall global losses and 45% of insured losses had been caused by inland flooding that had struck parts of Asia, Canada and Australia, in addition to Europe.
Amid the 460 recorded "natural hazard events" worldwide, a succession of flash floods in northern India and Nepal emerged as the deadliest. These claimed the lives of more than 1,000 people after a premature and exceptionally heavy monsoon season.
However, Germany bears the brunt of the expense as overflowing major rivers flooded southern and eastern parts of the country and spilled over into neighbouring countries in May and June. Germany has shouldered the majority of more than $16bn worth of damage.
"The frequency of flood events in Germany and central Europe has increased by a factor of two since 1980," said Munich Re board member Torsten Jeworrek.
Rainiest spring
In some areas, 400 litres fell per square metre within just a few days. The ground had already been saturated from the rainiest spring in half a century and triggered the rapid swelling of the rivers Danube and Elbe.
Peter Hoeppe, head of Munich Re's Geo Risks Research unit, said in a statement that "it is evident that days with weather conditions that lead to such flooding are becoming more frequent".
As weather systems tend to remain stationary for longer, he said there was a higher chance for heavy and long-lasting rains, and for summerheatwaves and droughts.
"Debate in climate research is currently focusing on what the causes of such changes in weather patterns could be and what role climate change might play in this," said Hoeppe. "But it is naturally not possible to explain single events on this basis."