France's economy is not in tatters, but the outlook is fraught with danger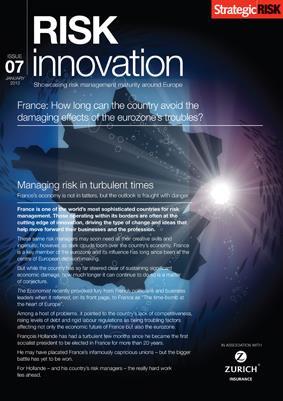 France is one of the world's most sophisticated countries for risk management. Those operating within its borders are often at the cutting edge of innovation, driving the type of change and ideas that help move forward their businesses and the profession.
These same risk managers may soon need all their creative skills and ingenuity, however, as dark clouds loom over the country's economy. France is a key member of the eurozone and its influence has long since been at the centre of European decision-making.
But while the country has so far steered clear of sustaining significant economic damage, how much longer it can continue to do so is a matter
of conjecture.
The Economist recently provoked fury from French politicians and business leaders when it referred, on its front page, to France as "The time-bomb at the heart of Europe".
Among a host of problems, it pointed to the country's lack of competitiveness, rising levels of debt and rigid labour regulations as being troubling factors affecting not only the economic future of France but also the eurozone.
François Hollande has had a turbulent few months since he became the first socialist president to be elected in France for more than 20 years.
He may have placated France's infamously capricious unions - but the bigger battle has yet to be won.
For Hollande - and his country's risk managers - the really hard work lies ahead.
To see the issue of Risk Innovation on France, in English, click here.