Berlin is certainly worried about Francois Hollande's victory, but is this man really a cause for concern or a white knight come to Europe's rescue?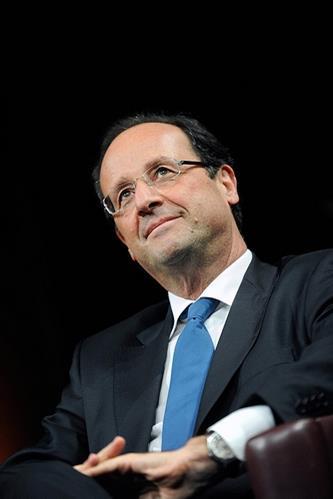 With the French presidential election decided, we now know that Europe's second largest economy will be heading into a new political dimension. On May 25th the incumbent Sarkozy will retire from politics, and François Hollande will be the first socialist President in the Élysée Palace in 17 years.
François Hollande wooed his voters by campaigning on a bandwagon of public-sector growth and tax rises for business and the rich. But plans including the introduction of a 75% rate of tax on income above €1m, higher corporate taxes in high-earning sectors, and a separation of speculative activities from retail banking have not gone down well with businesses who are already treading water in a flailing economy.
But Monsieur Hollande has inherited an economy that's in trouble. Unemployment is at 10% and the national debt is 86% of GDP. His growth package comes with promises to create 60,000 new teaching positions and 150,000 subsidised jobs for the young and unemployed, however, this and a pledge to insert references to growth in the EU Fiscal Compact have troubled those preaching austerity from Brussels.
Hollande's references to growth might be the "Plan B" that Europe needs
Whilst this may be the case, it is important to note that Hollande has said on-the-record that no concrete budget would be set before an audit of public finances, something which implies a more pragmatic approach to fiscal policy than initially expected. What should also be remembered is a statement by Standard & Poor's on May 8 which made it clear that the election results will have no immediate impact on France's AA+ rating.
According to Nathalie Schnelle, European analyst at risk intelligence firm, Maplecroft: "An official auditors' report could provide him with credible arguments for his own party as well as the French public to reverse some of his initial spending promises, and as a result, potentially restore confidence among investors."
The narrow margin by which Hollande won the election – he gained 51.63% of the popular vote compared to Sarkozy's 48.37% – will also have an impact on how much he can achieve, It will also make June's elections to the French National Assembly an 2012 even more interesting.
"[They]will be decisive for the new President's actual political leeway", says Schnelle, "given the relatively tight majority with which Hollande was voted into office, he is likely to be cautious with potentially unpopular reforms in order to prevent an adverse reaction from the electorate in the legislative elections."
Nevertheless, he will continue to focus on delivering financial and pro-growth policies. In France, this will include public sector recruitment as well as tax advantages and bank lending for small and medium firms. But he will probably scale back on his promises to increase corporate taxes from 33% to 45% on large firms or to tax high earners as heavily as he has pledged—because this is likely to be counterproductive.
In addition, Hollande will face significant German opposition in his plans to renegotiate the European fiscal treaty, by reforming the European Central Bank mandate and creating Eurobonds. But, during the election, rhetoric from Hollande's camp moved from talking about a complete renegotiation of the treaty to just "complementing" it with references to growth and employment.
He also wants the treaty to allow EU countries to borrow money to fund "big industrial projects", and to increase the borrowing and lending of the European Investment Bank. What's more, he wants countries to be allowed "structural budgets to support investment projects in low-growth countries".
All in all this doesn't seem like such a bad idea. Spain, Greece, Italy, Ireland, Portugal, Belgium, the Netherlands, Denmark and the Czech Republic are all in recession. Hollande's stance is simple: austerity alone is not working and countries must move towards implementing a more interventionist pro-growth programme. And he's not alone.
Even Mario Monti – head of the unelected technocratic government in Rome – has welcomed the emphasis on growth put forward by Hollande, a signal that countries other than France are beginning to doubt that German-championed austerity policies hold the answers to all of their problems.
According to Pepe Egger in Exclusive Analysis' Berlin office, Hollande's references to growth might be the "Plan B" that Europe needs. "[Hollande] will speak with Merkel and other players in the European Union and he will say: 'Guys, I will support your fiscal compact, but I want the insertion of some pro-growth intervention measures'. If he can shift the European discourse onto some kind of stimulation of growth it's not entirely a bad thing because the economy's in recession and it doesn't look very good."
In reality then Monsieur Hollande is in a "no-lose" situation, provided he can keep France from slipping back into recession. If he succeeds in getting his pro-growth references inserted into the EU Fiscal Compact and Europe somehow manages to re-emerge from recession, it is quite possible we'll see Hollande taking all of the credit!