The digital transformation to mechanised production is increasingly taking humans out of the equation. But effective risk prevention demands in-person site visits and in-depth dialogue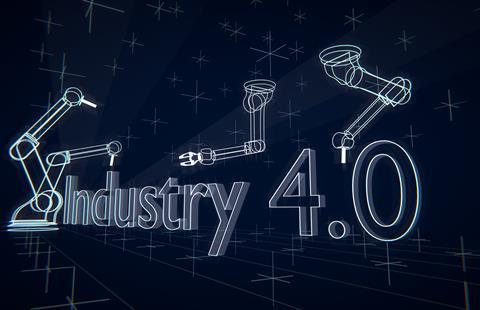 Industry 4.0, also known as Manufacturing 4.0, is the fourth major industrial change since steam power transformed our industry and our society. While the third industrial revolution introduced computers into the process, this next stage is about integrating and connecting IT systems and bringing artificial intelligence (AI) into the process. The goal is to design smart factories, using sensors, data and advanced analytics in a way that assists decision-making and limits human involvement.
Predicting their own weak spots
Internet of Things (IoT) is a key enabler for improving the way in which manufacturing equipment is maintained within smart factories. Using sensors, connected machines can communicate with each other and with humans, sending alerts where potential weaknesses are spotted before they become full-blown faults. These weaknesses can be difficult to spot with the naked eye, hence the value in predictive maintenance.
Our risk engineers are conducting regular site visits to discover first-hand what our clients are doing with regard to digital transformation. Armed with this knowledge, we are better positioned to advise clients of the emerging risks they may face
Marc Schmassmann, senior risk engineer, casualty at Swiss Re Corporate Solutions, explains: "In this way you avoid or significantly reduce unplanned downtime by predicting when a machine needs a control or when it is about to fail. Basically you can kill several birds with one stone, since at the same time you can maximise the lifespan of equipment, avoid disruptions and increase the safety of people using the device."
Generation V
Meanwhile, fifth generation (5G) mobile networking is also set to transform manufacturing, with a study by Ericsson predicting that the 5G business potential will be $113 billion by 2026. It anticipates that 5G networks will allow manufacturers to truly take advantage of technologies like automation, AI, augmented reality for troubleshooting and IoT.
There is significant potential associated with Industry 4.0, not least of which is greater efficiencies and agility, reduced losses, increased safety and increased quality of goods. Through automation and AI there is a clear opportunity to drive greater value both within the factory setting and across the supply chain network. Smart factories can also evolve and adapt to the changing needs of the organisation and demands of its customers.
Maintain dialogue on digital
But, as with all new technologies and innovations, Industry 4.0 also presents emerging and as yet relatively unknown risks, says Schmassmann. "Some risks, in particular on the cyber security, data protection and new equipment reliability, can be underestimated and therefore it is important to keep an open risk dialogue with insurer and broker partners."
"At Swiss Re Corporate Solutions, our risk engineers are conducting regular site visits to discover first-hand what our clients are doing with regard to digital transformation. Armed with this knowledge, we are better positioned to advise clients of the emerging risks they may face as they undergo their digital transformation and how to best manage these on a holistic basis."