Renewable energy is booming as green goals are set, and insurers must get creative to offer bespoke coverage for this unique market. But could you commit to going 100% renewable? Swiss Re Corporate Solutions is doing just that.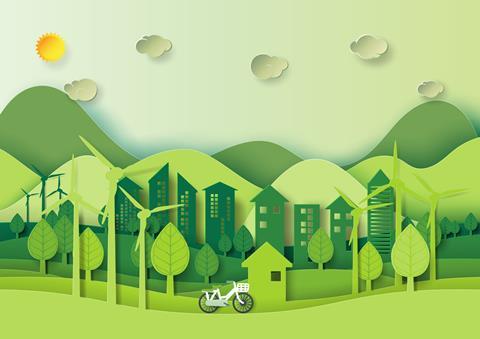 From a ban on single-use plastic and low-emission zones in cities, to a flying tax and subsidies for electric vehicles, countries around the globe are taking steps towards a greener and more sustainable future. As societies are becoming more aware of climate change and pollution, governments are acting accordingly, introducing greener policies and regulations.
According to the International Renewable Energy Agency (IRENA), energy production and use accounts for roughly two-thirds of global greenhouse gas emissions, so renewable energy plays a dominant role in achieving climate goals.
Apart from societal benefits such as improved welfare due to health, environmental and climate benefits that GDP fails to capture, the renewables sector will employ a total of 26 million people by 2050, up from 9.8 million in 2015, IRENA estimates. Transitioning to renewable energy will also result in an additional 0.8% rise in global GDP compared to current plans and policies.
Renewables now account for a third of global power capacity, as the increased efficiency of production for renewable energies has drastically reduced costs. Solar and onshore wind have grown particularly fast over the past decade and in some countries they are already at the same price level as fossil fuels.
Specific needs, new solutions
But the significant growth of renewable energy has also created challenges. The more solar and wind energy that is created, the more problems arise for the transmission grid. The big fluctuation in production is causing a headache for the grid, but technological developments in energy storage will be able to alleviate these pressures.
Weather-related risks such as lack of sunshine or wind can also be transferred to insurance companies. Innovative solutions in parametric insurance are designed to meet the specific needs of renewable energy companies.
At Swiss Re Corporate Solutions, we have created bespoke insurance solutions to weather-related risks, such as a wind-hedging product that provides financial compensation to buyers of power when the wind does not blow, and a solar-hedging product that guarantees a level of production, whether the shortfall is due to lack of sunshine or poor performance of the physical asset.
Starting-up is never easy
Other essential insurance covers include natural catastrophe and business interruption. Renewable energy companies are exposed to natural perils, from hail storms, floods and lightning, to earthquakes and hurricanes. Without the right insurance cover, these can have detrimental financial consequences for renewables businesses.
Another key consideration is delay in start-up (DSU) insurance. Large renewable energy projects are complex and a delay in any part of the process could result in a heavy financial loss.
While traditional DSU needs a physical damage trigger, bespoke DSU solutions are always based on an insured loss that causes delay in start-up as well as compensation for the long-term financial loss resulting from a decrease in guaranteed tariffs
Swiss Re: going 100% green
But contributing to a greener future means more than just meeting the insurance needs of renewable energy companies. Insurance companies themselves should aim to become less reliant on fossil fuels, which is why Swiss Re is committed to transitioning to 100% renewable energy by 2020.
At the end of 2018, approximately 94% of our total power consumption came from renewable sources. We are already using 100% renewable power at all our locations where it is available in reliable and trustworthy quality. Furthermore, we are pursuing long-term green power purchase agreements with wind farms in the US and in Europe to enable new renewable capacity being added to the grid.
To demonstrate true leadership in the renewables space, we helped establish the Climate Group's RE100 initiative in 2014. The initiative aims to unite the world's most influential companies in a shared commitment to use 100% renewable power in their operations. RE100 now includes more than 210 of the world's largest companies.
Shout it from the rooftops
Swiss Re has also started building solar power plants at our own offices around the world, for example on the roof of Swiss Re Next, the group's new office building in Zurich.
And the solar power plant at our US headquarters in Armonk, NY is our largest solar facility yet. Comprising ten acres of ground-mounted panels, the facility has a capacity of 2 megawatts. The electricity generated provides more than two thirds of our own office's annual power needs.