Highly cost-effective, energy-efficient, fast – 3D printing could be the future of homebuilding. But is the technology too new for insurers?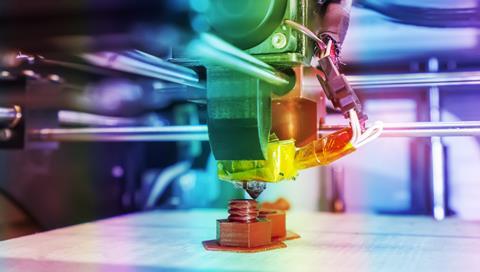 The potential for 3D printing has exploded in the past decade. Tech geeks who just five years ago were showing off the technology's ability to print Star Wars models at home are now demonstrating their ability to print homes.
By 2025, a quarter of all new homes built in Copenhagen will be printed – if the hopes of the Danish capital's current leaders come to pass.
Meanwhile, last year, a family in France became the first in the world to move into a printed house. The structure of the four-bedroom home took just 54 hours to print, although it took builders another four months to add in things like windows and a roof. Nevertheless, it cost only £176,000 to build, which its designers say is around 20% less than the total would have been if they had used more traditional construction methods.
And it's not just cost-effective. Marsh JLT Specialty's Dave Cahill says 3D printing can cut material waste by almost 30%. It also uses less energy and fewer resources, and allows for in-situ production, which lowers transport costs.
Ready for the revolution?
Cahill thinks that 3D printing could revolutionise the construction sector over the next decade.
In the near future, 3D printing may allow the faster and more accurate construction of complex or bespoke items, he says. "The process might also enable building work to be undertaken in harsh or dangerous environments, such as in space."
The process might also enable building work to be undertaken in harsh or dangerous environments, such as in space
However, a large-scale construction project is yet to be attempted. And that is because the tech hasn't been tested over the long term.
"There will therefore continue to be concerns over the longevity and durability of components produced using this technique," Cahill says.
A challenge to cover
For insurers, that means it falls somewhere between a prototype and a viable solution – and that can make it difficult to get coverage for 3D-printed construction projects.
"This is normally a very sensitive area for insurers who are keen to avoid funding industry research and development and subject any such prototypical technologies or products to particular scrutiny," Cahill says.
Another challenge for insurers is establishing liability. If something goes wrong with a building, who is responsible? The designer, the contractor that oversaw its construction, the printer manufacturer or the firm that made the concrete ink?
Cahill asks: "Professional indemnity policies will provide protection against the professional risk but where does the boundary sit between this and the manufacturing process?"
He adds: "There are many questions, the answers to which will have a bearing on the insurance protection that is available. Relying on either professional indemnity or products liability coverage could be a dangerous approach, as there are aspects of both risks associated with this process."