Demand for international insurance programmes is on the rise as businesses look to expand globally, increase efficiencies and take advantage of new insurance markets maturity
While appetite for universal programmes was historically largely driven by bigger multinationals, these days insurers are seeing more new business come from smaller and mid-market companies.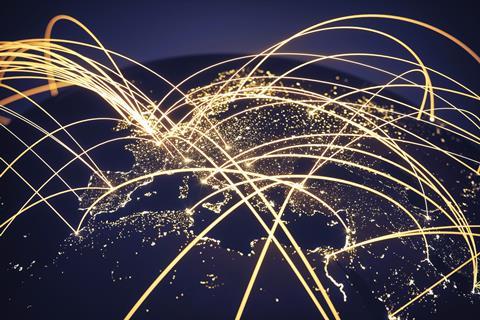 Gillian Gunnink, head of international programmes strategy at Swiss Re Corporate Solutions explains: "Middle market customers are becoming more sophisticated, and they are expanding their footprint both in their supply chains as well as their financial assets."
She adds that her organisation is also seeing greater interest from companies headquartered in emerging economies such as China.
That doesn't mean that there is no longer demand from huge multinationals. Rather, because those companies often times have shrinking footprints, the way in which they use international programmes is evolving and many are relying more heavily on captives.
Striving for efficiency
The changing dynamic of the businesses seeking international programmes as well as the unique challenges those companies face, mean that insurers are having to evolve offerings, become more dynamic, and leverage technology to drive efficiency.
One of the main challenges is the rise of decentralisation, which can cause difficulties for smaller organisations in particular. For instance, some companies may lack the sophistication to have control over the structures of their organisations.
A company may well not have the framework, communication or established relationship to be able to prevent local offices from buying a local policy from a non-programme entity in-country. This impacts the premium allocation process and the invoice and policy issuance administration. So, it is crucial that the communication between those local offices and the headquarters becomes transparent and is monitored in a very effective way, so as to gain all of those efficiencies and productivity from a true multinational programme.
Gunnink says: "This really requires insurers to support companies in overcoming the complexities of their global insurance programmes by getting serious about the use of technology in order to remove those barriers; we need to utilise the full suite of technological advances we've made in other industries.
"We need to ensure that wherever possible we are leveraging robotics, APIs, and distributed ledger technology while integrating processes end-to-end to overcome these increased administrative burdens."
She adds that as well as embracing technology, insurers also need to work with clients to promote contract certainty, ensuring that coverage is complete and complementary from country to country.
With the globally standardised property policy ONE Form, Swiss Re Corporate Solutions found a tech-based way of doing so and is onboarding customers and broking partners in the important property segment. ONE Form ensures the highest possible alignment between master and local policies – making the complex issuance processes faster and more efficient.
The rise of captives
The same challenges are also driving an increased use of captives, which are being deployed in new and interesting ways.
In turn, this means that insurers must make sure that the same optimisations can be applied to the captives' markets to pass on increased efficiency.
Gunnink explains: "Owners of captives have very high expectations of their fronting carriers; in addition to that which is needed for non-captive programmes, they require extremely transparent, timely, and fully reconciled international programmes. They rely on that transparency and efficiency to reap the full benefits of such programmes ."
Still a people process
While technology is critical for a successful international programme, Gunnink emphasises that people and networks are still just as important as ever.
In fact, Swiss Re Corporate Solutions has begun hiring 'Deal Architects' – a role that is specifically designed to help make sure that international programmes run smoothly. The first deal architect has already been appointed in America, with more to follow in Asia and the EMEA region.
She concludes: "The human factor is absolutely essential. Our network is a living thing that is continually growing and changing, and it's made up of thousands of insurance professionals that need to maintain knowledge levels and coordination.
"It's important that this network is supported with technology, but what's equally crucial are the people on the ground."
If you are interested in finding out more, visit Swiss Re Corporate Solutions' International Programmes webpage.