This year's heavy rain in Germany has revealed a deficit in essentials – from sandbags to damage insurance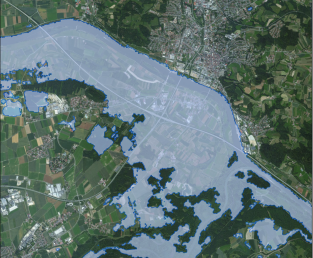 The catastrophic floods that hit Germany earlier this summer have illustrated just how hard it is to protect against and mitigate the risk presented by increasingly unpredictable climate conditions in Europe.
When heavy rain in late May and June fell on ground already saturated after one of the wettest springs on record, rivers burst their banks and huge areas of southern and eastern Germany, as well as other central European countries, disappeared under the muddy torrent. Roads were closed, towns and villages became lakes, businesses ground to a halt and farmland turned to swamp.
Many were taken by surprise – not least the German state itself. By the third week of the floods, public services found themselves short of sandbags, and Germany's neighbours, the Netherlands, Luxembourg, Belgium and Denmark, had to be asked to fill the gap with some 1.65 million empty sandbags.
But aside from the logistical problems of coping and the human misery that came with the rain, the floods cost money. A huge amount of money.
In July, the European Commission approved a €600m (£518m) government aid plan to compensate farmers for up to 100% of lost income in 2013 and 2014, as well as damage to buildings, equipment, crops and livestock.
Total damage estimated at €12bn
But it is the emerging data on insurance claims that paints the most interesting picture of the disaster – and offers food for thought for all.
According to the German insurance trade association GDV, damages will cost insurers around €2bn, based on 180,000 claims.
This beats the 150,000 claims made during the 2002 Elbe river floods, which cost insurers €1.8bn.
But while this is a huge amount of money, it represents only a fraction of the cost of the damage caused by the floods. According to some estimates only 30%, and Fitch put total damage at €12bn.
In the space between €2bn claims and €12bn damages are the many residents in flood-prone areas who had no insurance cover for natural hazards, either because they chose not to buy it, or they could not find it at a reasonable price, leaving up to €10bn to wash away down the Danube and Elbe.
In response, German economic think-tank Deutsches Institut für Wirtschaftsforschung (DIW) has proposed that building insurance against flood-related damage should be made compulsory and that the German government should provide a loss guarantee for claims above €8bn.
The European Union is also considering new flood protection regulation.
Lessons from the UK
But all those involved should take note of the protracted negotiations dogging attempts by the UK government to guarantee access to appropriate cover to flood-prone areas.
In the meantime, both scientists and insurers believe severe future floods are likely. The Geneva Association, an international think-tank set up by the insurance industry, said recently that expensive disasters are becoming more common, whether or not they are caused by climate change.