Several websites were hacked by the anti-capitalist group Anonymous in protest against a second round of Greek austerity measures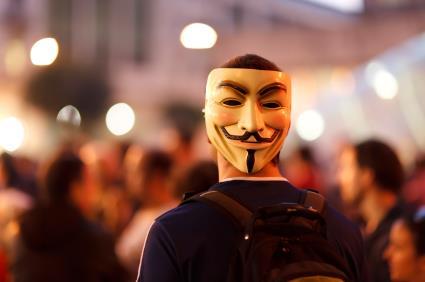 Online activist group Anonymous has taken down several websites in Greece in protest against a unpopular second round of austerity measures that was agreed recently in Athens.
Media reports on Monday (February 13) confirmed that Anonymous had effectively taken offline the websites of a Major TV channel, the Prime Minister's website, National Police, Ministry of Finance and Minister of Finance Evangelos Venizelos' personal site.
Today's attacks appear to be to support protests against Greece's latest bailout agreement, which imposes harsh new austerity measures in return for a €130bn bailout package to shave €100bn billion off the country's national debt.
The attack comes only a week after the group hacked the Greek Ministry of Justice website in protest against the Anti-Counterfeiting Trademark Agreement (ACTA), a treaty that would make Internet Service Providers (ISPs) liable for copyright infringements carried out on their networks.
Critics are afraid the treaty would introduce surveillance technology to websites which would threaten the freedom of the web.
When Anonymous hacked the Ministry of Justice website, a message appeared on the site announcing it will take down over 300 media and ministry sites if the government doesn't reverse its course on ACTA.
What effect the actions of this hacker group will have on the Greek government's actions remains to be seen.