Before handing over the baton to Patrick Smith, Helen Pope reviews her year as chair, speaking fondly about the success of an international insurance compliance programme that has gone global during her tenure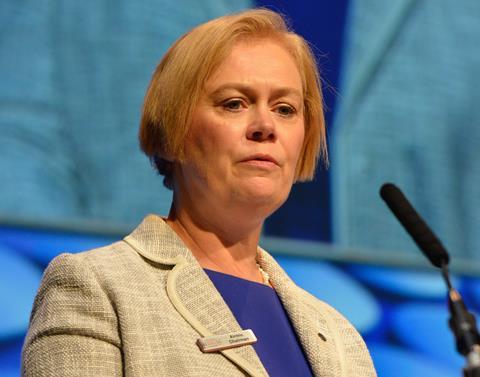 Looking back on your year as Airmic chair, of which achievement are you most proud?
Insight Risk Manager – an international insurance compliance database developed by Airmic and Axco is very close to my heart. So if I had to single out one achievement that I am most proud of, it would be the launch of this database.
Insight Risk Manager provides guidance on the rules covering admitted and non-admitted insurances by jurisdiction. The tool was launched last year at Airmic's annual conference in Birmingham with 30 countries registered on the database. That number has now expanded to 70.
RIMS, the US-based risk management association, is now offering the database to its membership. Are other risk management associations likely to sign up and off er the tool to their members?
It was great to support Axco with the launch of the database at RIMS' annual conference in New Orleans, US, this April. Insight Risk Manager is going global, which is a fantastic achievement. Additionally, the FERMA and the Pan-Asia Risk and Insurance Management Association are still in discussions with Airmic and Axco about offering the database to their risk manager members.
What challenges did you face when building the database?
It has taken about seven years to build the database and get it ready for launch, but we got there in the end! I remember peers commenting that the database would never get off the ground or that it would not be ready in my lifetime. Many felt it would be challenging to get diff erent parties, particularly insurers, to provide us with the necessary data because of confidentiality considerations, but we had the support of brokers. Our aim with the global compliance database is to provide risk managers with the data or information that they need to devise a global insurance programme. Having the right insurance programme is important for modern risk managers because compliance has become crucial.
StrategicRISK interviewed you this time last year when you were about to step into the role of Airmic's chair. You outlined some big plans, one of which was to attract more young people to the industry. How have you done that during your tenure?
At the risk of sounding cliché, the industry is still on a journey to attract young talent. Airmic had its first fastTrack conference this year and that was a major achievement; there was a real buzz during that event.
The association will further support the professional development of tomorrow's risk leaders and is calling on insurers and brokers for support. We still have some way to go. School-aged children for instance do not aspire for a career in insurance and we aim to change that.
You also mentioned during your fi rst press interview as Airmic chair that more openness, trust and transparency between insurers and insurance buyers are required. Has there been much improvement here?
More work will always need to be done. However, the International Underwriting Association and Lloyd's have joined forces with Airmic to drive innovation and that would not have happened a few years ago, so that in itself is innovative.