WEF outlook warns of lower economic activity, higher inflation and greater food insecurity
As the 2022 meeting in Davos gets underway, the May 2022 Chief Economists Outlook warns of extremely high uncertainty about geopolitical developments, the trajectory of the global economy and the next steps for economic policy.
Instead of entering a post-COVID recovery phase, economies are experiencing additional shocks, first and foremost from the war in Ukraine and associated geopolitical repercussions, but also from new outbreaks of COVID-19 and lockdowns in major industrial centres.
The report explores some of the key forces driving the global outlook, including inflation and wage developments, food security, global integration, and the impact of sanctions on Russia and sets out core policy trade-offs.
Saadia Zahidi, head of the Centre for New Economy and Society and a managing director at the World Economic Forum, explained: "We are at the cusp of a vicious cycle that could impact societies for years.
"The pandemic and war have fragmented the global economy and created far-reaching consequences that risk wiping out the gains of the last thirty years.
"Leaders face difficult choices and trade-offs domestically when it comes to debt, inflation and investment.
"Yet business and government leaders must also recognise the absolute necessity of global cooperation to prevent economic misery for millions around the world.
"The World Economic Forum's Annual Meeting this week will provide a starting point for such collaboration."
Higher inflation, lower real wages and food insecurity
The majority of chief economists surveyed by the Forum expect high or very high inflation in 2022 in all markets except China and East Asia – with 96% expecting high or very high inflation in the US, 92% for Europe and 86% for Latin America.
With wheat prices expected to increase by over 40% this year and prices for vegetable oils, cereals and meat at all-time highs, the war in Ukraine is exacerbating global hunger and a cost-of-living crisis.
Over the next three years, chief economists expect food insecurity to be most severe in sub-Saharan Africa and in the Middle East and North Africa.
At the current trajectory, the world is on track for the worst food crisis in recent history, compounded by the additional pressure of high energy prices.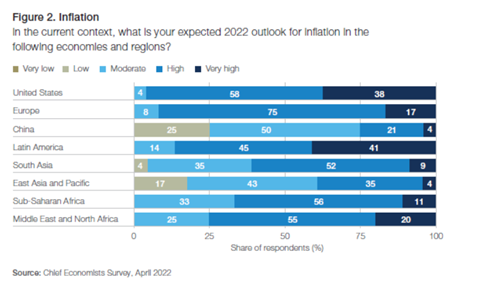 Fragmentation of supply chains

As supply chains enter their third year of disruption, governments and business are rethinking their approach to exposure, self-sufficiency and security across their supply chains.
Chief economists consider it likely or highly likely that multinational companies will both localise and diversify their supply chains in the next three years, realigning them along geopolitical fault lines.
The report calls for "no-regret actions" by policy-makers such as: global cooperation on the climate crisis; investment in human capital to prepare populations for a range of economic futures; and developing resilience through greater economic integration, knowledge-sharing and diversification.