"Large swathes of manufacturing could see downturns of the likes not seen before" - IHS Markit
The global coronavirus disease (COVID-19) led to a notable deterioration in euro area manufacturing sector operating conditions during March, according to IHS Markit. Output, new orders and purchasing all fell sharply, whilst jobs were cut markedly, and supply-side constraints intensified at a record pace. Confidence about the future sank to a historical low.
At the aggregate level, the deterioration in manufacturing output was the greatest since April 2009. Output fell sharply in line with a similar fall in manufacturing new orders, which also deteriorated to a degree unsurpassed for just under 11 years.
According to Chris Williamson, chief business economist at IHS Markit: "Even the slide in the PMI to a seven-and-a-half year low masks the severity of the slump in manufacturing as it includes a measure of supply chain delays, which boosted the index. Supply delays are normally seen as a sign of rising demand, but at the moment near-record delays are an indication of global supply chains being decimated by factory closures around the world."
"The concern is that we are still some way off peak decline for manufacturing. Besides the hit to output from many factories simply closing their doors, the coming weeks will likely see both business and consumer spending on goods decline markedly as measures to contain the coronavirus result in dramatically reduced orders at those factories still operating."
"Company closures, lockdowns and rising unemployment are likely to have an unprecedented impact on expenditure around the world, crushing demand for a wide array of products. Exceptions will be food manufacturing and pharmaceuticals, but elsewhere large swathes of manufacturing could see downturns of the likes not seen before."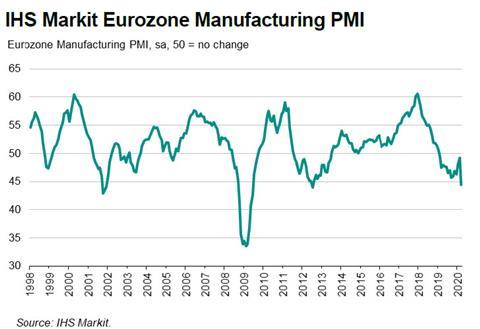 All country level PMIs were lower compared to the previous month. Italy saw the sharpest deterioration in operating conditions, with the respective PMI the lowest in nearly 11 years. Having consistently recorded the best growth in recent months, Greece was the second-worst performer during March.
Elsewhere, France, Ireland and Spain all saw multiyear low readings for their PMIs. Only the Netherlands recorded a PMI above the 50.0 nochange level in March, though growth here was marginal.
France, Germany and Greece recorded the sharpest falls in new export work. Manufacturers continued to face significant obstacles in securing supplies during March, both from within and outside of European markets.
The survey showed that average lead times deteriorated to the greatest degree in nearly 23 years of data collection, with firms across all nations indicating considerable delays to their input delivery.