The pace of increase in directors' and officers' liability insurance premium rates is slowing
The perception from members is that the insurance market is softening, although a significant number of respondents (30%) believe market conditions will continue to deteriorate in 2023.
Results from the latest survey conducted in December 2022 continue to suggest signs of 'green shoots', where the pace of the premium increases is slowing – but there are still challenges ahead.
Besides inflationary pressures at a record high, extreme weather events and other natural catastrophes together with economic and political pressures will give cause for concern.
"After a period of large premium increases together with restrictions in cover, it is pleasing to see some stabilisation in certain areas," said Keith Jury, Airmic member. "With global economic and political headwinds businesses are looking for value in every dollar they spend.
"The value of insurance is being discussed in the boardroom. We need to work as an industry to deliver that value by meaningful cover at a fair and sustainable price together with expert, analytics, advice and knowledge."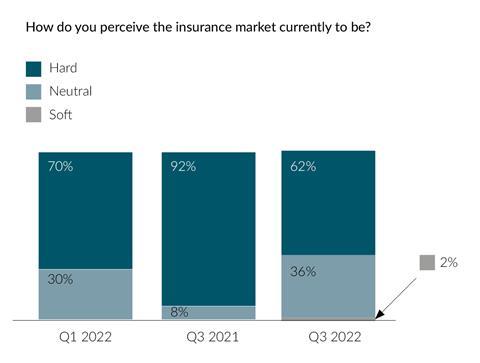 Gruelling reinsurance renewals
While the UK has not been hit as badly with these events, reinsurers are inevitably increasing rates which will of course be passed on. All of this has contributed to a gruelling renewal process for Airmic members, exacerbated by excessive demands for data and delay in delivering terms.
The use of captives has grown as Airmic members increasingly seek alternative means of risk transfer.
Geopolitical and geoeconomic risks may often lie beyond the insurance market. But where cover has been available, a retreat of capacity was witnessed, including risks associated with events in Ukraine.
The pace of increase in directors' and officers' liability insurance (D&O) premium rates is slowing.
Challenges in cyber continue with excessive demands for data and delays in delivering terms, often for too little cover at too much cost.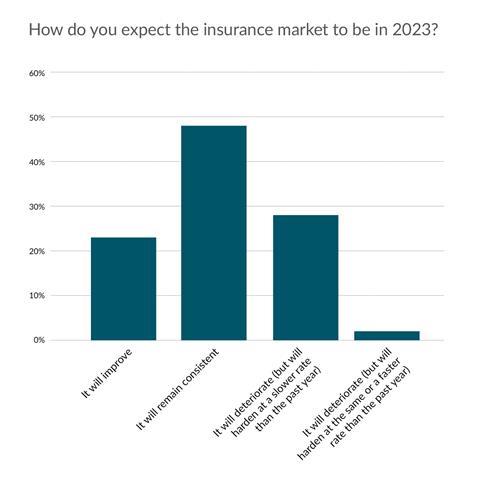 Throwing down the gauntlet
The trend since 2021 is that fewer respondents are saying that they find themselves in a hard market. Airmic members would like to see greater willingness from the insurance market to engage with members on designing policy coverage to meet their needs.
Other challenges for members include global instability, market volatility, and the need for better understanding and support for ESG initiatives. Besides asking more questions than before, insurers are introducing new standard clauses relating to ESG.
In an August 2022 survey of insurers conducted by Marsh, 79% of respondents indicated they would offer incentives such as premium credits, or more favourable terms and conditions, to insureds which show positive ESG metrics.
"At Marsh, we regularly scan for macro trends that may have an impact on our clients," commented Ryan Bond, head of Insurance Innovation for Climate and Sustainability, Marsh.
"By engaging with a wide selection of carriers about how they consider Climate and Sustainability within their underwriting, we are able to better support our clients on how their risk transfer partners may start to consider non-traditional attributes.
"This, combined with our innovative ESG Risk Rating tool can help position our clients for whatever changes that may occur."