Futurologist Ray Hammond looks at how personal mobility and travel may evolve in 2021 due to COVID-19
With the end of the global pandemic predicted to come in December 2020, a new way of living will emerge and the world will be very different.
Allianz Partners commissioned Futurologist Ray Hammond to anticipate and envisage some early patterns of change which are likely to shape this new world. The findings include:
Personal mobility: road travel will return to normal levels; major cities around the world will continue reorganising infrastructure to encourage the use of micromobility.
Travel: Rigorous sanitation measures will be adopted throughout the leisure and tourism industry and leisure air travel is unlikely to return to pre-COVID-19 levels for a number of years.
Tim Tozer, CEO of Allianz Partners UK, said: "This is an enormously challenging time for everyone in the UK and across the globe, with all of us feeling the impact of COVID-19 in many ways. However, it is also proving to be a catalyst for change, an inspiration for innovation, a creator of communities, and a respite for the environment.
"Businesses have adapted quickly to serve customers in different ways, others have switched their focus entirely to help in the battle against COVID-19, whilst families have connected digitally and communities have come together to support each other and support key workers.
A shift towards more sharing and flexible mobility
While the wearing of "smart face masks" will make it possible to identify people who are ill and the volume of passengers on trains will be reduced, many people will rethink their trips.
During the COVID-19 induced lockdowns, people discovered that they could order their groceries or other shopping items online with ease and speed. Many worked from home, and they will now ask themselves whether it makes sense to own a car. This is likely to accelerate the trend towards short-term car rental rather than full car ownership and is likely to add to the number of those using car sharing schemes.
In the past months, thousands of miles of new bike lanes have been built in cities which are being closed to traffic. Commuters around the world have massively adopted the bicycle as they emerge from months of COVID-19 lockdown. This will increase the use of methods of transport (shared and owned) that could get people from A to B whilst avoiding public transport, reducing greenhouse gas emissions and improving urban air quality.
At the same time, the authorities will have to provide charging points, create more bike lanes, and regulate usage to ensure riders observe speed limits, wear helmets and dock shared mobility items responsibility. With increased usage, micromobility providers will also need to ensure the safety of riders by providing clear hygiene rules and safety tips.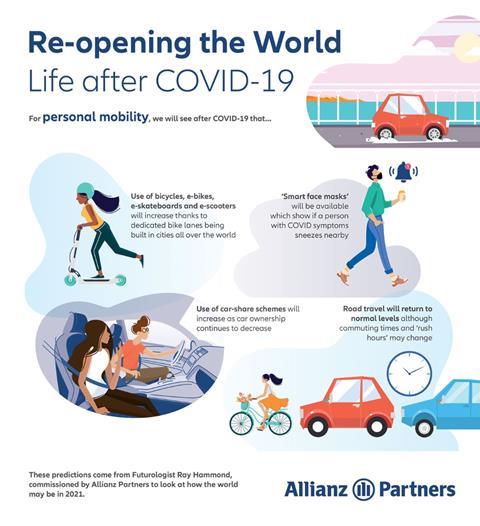 The travel experience will never be the same again
COVID-19 has been a real turning point for the travel industry; airplanes stayed grounded, train services reduced, cruise ships could not dock because of infected passengers and restaurants and hotels had to close because of sanitary measures. The post-pandemic period will open a new era of precaution with less spontaneity and more protection against viruses.
It is predicted that short haul and domestic air travel will recover first, but travellers will change their behaviours, including wearing face masks throughout their journey and saying goodbye to loved ones outside the airport. In some cases, jet bridges to planes will be used as a final "disinfectant tunnel". Airlines will cut down on cabin bags to speed up boarding and reduce contamination risk and will reduce food and drink services.
The most affected will surely be the cruise industry as no one has a clear vision of how cruises can be organised while respecting social distancing and, above all, the quarantine of sick travellers to avoid contamination.
Hospitality will be impacted by enhanced sanitation measures. Restaurants are likely to reopen with shorter hours, for fewer days, with far fewer tables and greatly streamlined menus. In the meantime, delivery and take-away orders by smartphone apps will hugely increase. All-inclusive hotel packages are likely to be redesigned to remove buffet-style food and drink to ensure guests receive service at their individual, socially distanced tables. Local excursions are likely to be provided exclusively for individual parties and will inevitably be more expensive.
Finally, business travel will be reconsidered since the pandemic has shown that global project management can be done by video conferencing, allowing financial cost and greenhouse gas emissions reductions. Only trade meetings, exhibitions and international sporting events are likely to resume to normal levels in the foreseeable future.