Commercial property insurers will likely reassess their exposures, pricing and reinsurance as a consequence of the wildfires in Hawaii, says Moody's
The devastating Maui wildfire is likely to be ranked among the most costly insured catastrophes in Hawaii's history.
Although the proximate causes of the fires are still unknown, they spread quickly amid dry conditions and heavy winds, partly from Hurricane Dora's passage several hundred miles south of Hawaii.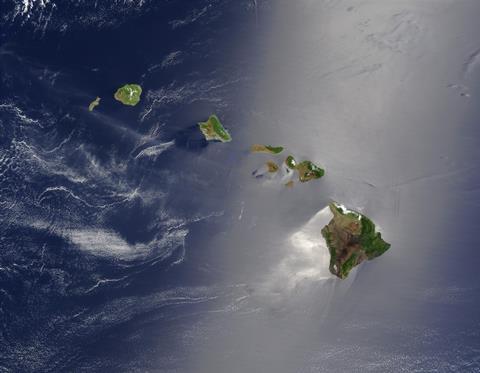 The Lahaina wildfire also spread rapidly because most of the area's buildings were close together and made of combustible material such as wood.
Rating agency Moody's has provided a report on the wildfires that have caused a tragic loss of life and destroyed most of the Lahaina community.
Given the damage assessment and Lahaina's relatively high $1.5m average single-family home value, Moody's estimates insured losses will be at least $1bn.
That would mean that the Maui wildfire is likely to be among the most costly catastrophes in the US state's history.
Hurricane Iniki caused $1.6bn in insured losses in 1992, which would be about $3.5bn in 2023 dollars, according to the Insurance Information Institute.
Wildfire trend
The average area burned by wildfires each year in Hawaii has increased about 400% over the past century, according to the Hawaii Wildfire Management Organization, as climate change increased average temperatures and decreased average rainfall.
The prevalence of non-native grasses such as guinea grass has increased significantly, particularly on the leeward sides of the Islands.
These grasses grow quickly during rains but create a large mass of dry vegetation when conditions dry. According to US Drought Monitor, the entire island of Maui had "abnormally dry" or drought conditions as of 8 August.
When Hurricane Lane struck in 2018, a wildfire destroyed 22 homes and burned 2,800 acres in Maui. There were also active wildfire seasons in Hawaii in 2019 and 2021.
High construction costs
Construction costs are typically high in Hawaii because most building materials need to be brought to the islands, noted the ratings firm.
Construction materials and labour costs increased significantly during the pandemic and the increase is driving higher property replacement costs, which feeds through to higher commercial property claims.
Maui may need construction workers from other Hawaiian Islands or from the US mainland, and construction workers may face their own housing shortages.
The increase in demand for construction labour and materials following the wildfires is likely to lead to higher insured losses, Moody's warned.
Aside from property damage, commercial lines claims will likely include business interruption losses.
"Direct business interruption is triggered only if the loss was caused by damage to business premises from a covered peril," the ratings firm added.
The impact on insurers
Property and casualty (P&C) insurers with significant commercial property market and homeowners share in Lahaina will be those most affected, Moody's said, although it will take weeks or months to determine the magnitude of the insured damage.
Primary insurers, such as State Farm Mutual Automobile, Tokio Marine and Allstate have exposure in Hawaii, but Moody's expects large carriers will readily absorb the losses given that business in Hawaii is a small fraction of their overall insured portfolios.
"These firms have considerable resources to withstand catastrophe events given their careful monitoring of exposures, geographic diversification, high-quality reinsurance protection and strong capital bases," Moody's said.
"Some reinsurers could incur a share of the wildfire losses through catastrophe policies as well as quota share and per-risk policies," the rating agency added."
However, for risk managers, the upshot could be more expensive policies or even a lack of coverage altogether.
"Commercial property insurers will likely reassess their exposures, pricing and reinsurance arrangements related to wildfires in Hawaii," Moody's concluded.
International SOS's top tips for risk managers to share with employees for wildfire preparedness:
Preparation. Ahead of a wildfire, employees should prepare their residential property. They should take necessary measures to keep safe including removing flammable materials and vegetation in a 30-foot radius of structures. Outdoor furniture should be brought inside or placed in swimming pools. All windows and doors should be closed and left unlocked. Curtains should be taken down; fire-resistant window coverings should be considered. Sprinklers and running water should be cut off to preserve critical water pressure. Gas and electricity supply should be turned off to minimise residual damage.
Evacuate. It is crucial that employees identify potential alternative accommodations in case evacuation is necessary. These may be friends' or relatives' homes in other towns, public shelters or hotels. It is recommended that they know how to reach their pre-identified accommodation and be ready to take alternative routes if major roads are disrupted. They should have a disaster plan in place, including meeting locations and communication plans, accounting for potential power disruption. It is important that an emergency supply kit is kept ready and multiple evacuation routes are planned.
Air quality. Even if an employee is hundreds of miles away from a fire, it may impact the air quality in their area. To best prepare, it is advised to have air purifiers on hand and to stay indoors as much as possible. If it becomes necessary to go outdoors, ensure N95 masks are available.
Emergency contacts. Police, emergency services, assistance centre and other local numbers should be saved. Employees should write down these details if their phone runs out of power and is unable to be recharged. They should also designate an out-of-area contact person in case of group separation.
Inform: Provide employees with up-to-date information and resources to stay alert and understand the risks and implications caused by wildfires.