As wildfires spread across Europe and the Americas, Strategic Risk explores the steps risk managers can take to safeguard their employees and ensure business continuity
Large parts of southern Europe are struggling with extreme heat as wildfires spread across parts of the continent.
In particular, Greece has been fighting fire on many fronts as it has struggled to evacuate tourists from Rhodes and now Corfu.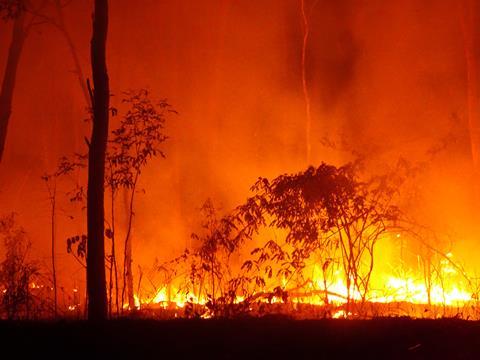 Crete has been placed on red alert, as emergency services from neighbouring countries such as Croatia struggling to contain the infernos.
Across the pond, the wildfires in Canada, which started in June, are already scorching about 15 times the normal burned area this time last year.
The smoke from the fires drifted into the eastern United States, causing unhealthy conditions and leading to air quality warnings.
A growing risk
Wildfire season typically peaks from July through October in the Northern Hemisphere.
However, due to rising global temperatures and record-low rainfall in recent years, destructive wildfires are now occurring beyond the traditional season.
These alarming trends are highlighted by the current ongoing wildfire season in several regions, where statistics have already surpassed averages.
Global wildfires and vegetation fires generated approximately 1,455 megatons of carbon emissions in 2022.
Some regions, particularly in parts of Europe and South America, saw the highest estimated emissions in the last 20 years during their peak wildfire seasons.
In the US alone, over 7.5 million acres of land were destroyed by these blazes last year, while within European Union countries, it is estimated that between 2.07 to 2.17 million acres were burnt by wildfires in 2022.
What does it mean for risk managers?
This year's wildfire season is already off to an unprecedented start.
It is expected to be one of the most challenging yet, so preparation and awareness of the proper steps to take is crucial.
The World Health Organisation warns that wildfires have the ability to destroy not just land but also transportation, communications, power, gas services and water supply.
They also lead to a deterioration of the air quality, which can have lasting effects.
"Wildfires hold not only a threat to the nature they engulf but also human lives, businesses and infrastructure systems that may extend well beyond that fireline," said Josh Dozor, general manager of medical and security assistance at International SOS.
"It is essential that organisations have plans and practices in place to ensure staff accountability and business continuity, should they be affected.
"Education on the subject and heeding the advice of local emergency management will provide safety for employees, their families and the business."
How to manage the threats
International SOS advises organisations to take steps to protect their people as well as prepare for all possible scenarios.
Should there be poor air quality, it is key to reduce exposure, allow employees to work from home and create a clean air space.
Dr Myles Druckman, global medical director at International SOS said: "Organisations should be well informed about the dangers of wildfires not just for their business but also for their employees' wellbeing.
"They can take steps towards preparing for wildfire season by paying close attention to air quality updates from a trusted source such as IQAir, encouraging employees to limit their time outdoors if air quality is poor, ensuring their office space has clean air spaces made with portable air purifiers and having masks available for employees should they need to go outdoors."
Managers with operations in at-risk areas should ensure they have comprehensive procedures in place to guarantee business continuity, factoring in the potential need for evacuation or relocation of the workforce.
Tips to share with your employees for wildfire preparedness:
Preparation. Ahead of a wildfire, employees should prepare their residential property. They should take necessary measures to keep safe including removing flammable materials and vegetation in a 30-foot radius of structures. Outdoor furniture should be brought inside or placed in swimming pools. All windows and doors should be closed and left unlocked. Curtains should be taken down; fire-resistant window coverings should be considered. Sprinklers and running water should be cut off to preserve critical water pressure. Gas and electricity supply should be turned off to minimise residual damage.
Evacuate. It is crucial that employees identify potential alternative accommodations in case evacuation is necessary. These may be friends' or relatives' homes in other towns, public shelters or hotels. It is recommended that they know how to reach their pre-identified accommodation and be ready to take alternative routes if major roads are disrupted. They should have a disaster plan in place, including meeting locations and communication plans, accounting for potential power disruption. It is important that an emergency supply kit is kept ready and multiple evacuation routes are planned.
Air quality. Even if an employee is hundreds of miles away from a fire, it may impact the air quality in their area. To best prepare, it is advised to have air purifiers on hand and to stay indoors as much as possible. If it becomes necessary to go outdoors, ensure N95 masks are available.
Emergency contacts. Police, emergency services, assistance centre and other local numbers should be saved. Employees should write down these details if their phone runs out of power and is unable to be recharged. They should also designate an out-of-area contact person in case of group separation.
Inform: Provide employees with up-to-date information and resources to stay alert and understand the risks and implications caused by wildfires.