Supply-chain disruption poses the greatest risk to global economic recovery, according to Oxford Economics
Supply-chain disruption poses the greatest risk to global economic recovery, according to the latest Oxford Economics Global Risk Survey. It confirms rising business concerns on the back of ongoing supply-chain disruption.
More than half of respondents (56%) report being affected by the supply-chain crisis, with those affected generally expecting disruption to persist. Most (64%) expect disruption to end after mid-2022.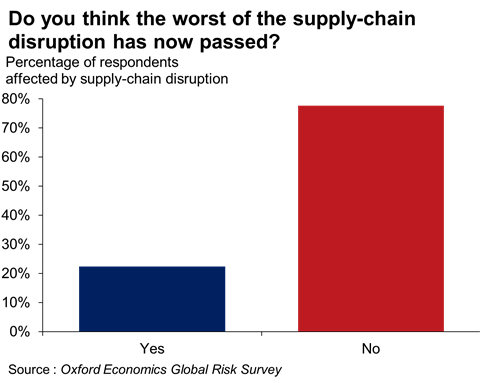 "Only a minority of those affected by the disruption judge that the worst of the crisis has passed. And businesses are now reporting greater pessimism over global economic prospects for the first time this year," said Jamie Thompson, head of Macro Scenarios at Oxford Economics.
Businesses see numerous significant sources of disruption. The survey suggests that material/input shortages are the most important source of supply-chain disruption, cited as very significant by more than two-fifths of respondents.
But both transportation bottlenecks (26%) and temporary (eg Covid-related) labour shortages (23%) are cited as very significant by more than 1-in-5 respondents.
In addition, structural labour shortages and other non-labour capacity constraints are seen as either significant or very significant by more than half of the respondents.
Increased supply-chain concerns are reflected in the probability businesses attach to different global growth outcomes. On average, respondents attach more than 50% probability to growth lying in the 4%-6% range this year. But they see more chance of a weaker outturn, and less chance of stronger growth, than in last quarter's survey.
Unsurprisingly, pandemic developments have dominated risk surveys over the past 18 months. But this quarter only 19% of businesses cite further coronavirus waves as the top near-term downside risk – the lowest figure for virus-related risks since the pandemic began.
By contrast, twice as many (41%) viewed supply-chain disruption as the top risk.
Climate change remains the top medium term threat
Medium-term risks remain varied. Climate change is still prominent, cited – alongside high debt levels – as a very significant risk to the global economy by around a third of businesses (34%).
But other risks (repeated pandemic waves, geopolitical risks, and a plunge in asset prices) are also cited by a fifth or more respondents.
Upside hopes are perceived to rest on consumers' willingness to run down savings accumulated during the pandemic. A consumer spending boom is considered the single largest upside risk by almost half of businesses (46%, up from 41%).