Pandemic impacts, geopolitical issues, economic risks and cyber threats converge on supply-chain risk decision-makers
While businesses are recovering from the pandemic-induced supply chain shock, new emerging disruptions and risks are now adding to operating uncertainty, according to the Global Supply Chain Risk Report 2023.
The publication, published by WTW, surveyed supply-chain risk decision-makers at large companies around the world.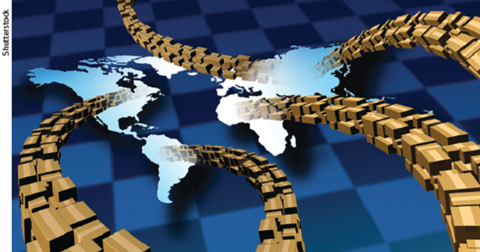 It found that Covid-19 caused a domino effect to cascade through global production and logistics networks and led to shortages of raw materials and components, shipping delays, port blockages, and even an undersupply of truck drivers.
Most of the supply-chain risk decision-makers suffered larger-than-expected losses during the supply-chain crisis, many are still recovering, and most are seeking to boost resilience by reducing supply-chain complexity, said the survey.
What did the report find?
Economic uncertainty emerged as the leading factor underlying supply chain risks, ranked by 32% as being among their top concerns. Inflation was also named among the leading contributors at 26%.
Growing digitalisation and automation of production and processes has increased the risks of cyber-attacks on suppliers. Survey respondents believed cyber risks to have the most profound effect on supply chains, rated by 34% as a high impact and 54% as medium.
Some 83% of respondents agreed that sustainability of supply chain is a key goal in risk management. More than half (54%) place climate change and environment among the top global trends affecting their supply chain risks.
Elsewhere, more than a third (35%) said geopolitical factors were among the top global trends affecting their supply chain risks, while 60% of respondents continue to put pandemics among the top global trends affecting their supply chain risks.
What does it mean for risk managers?
The report highlights that in complex supply chains with hundreds or even thousands of moving parts, risk can come anywhere along the chain.
Particularly in highly specialised sectors, companies can be dependent on a single supplier for an ingredient or key component that is critical to production. Even the loss of one can have a major disruptive impact if an alternative is not readily available.
This may explain why almost half (48%) of the respondents said that upstream risks were a great threat to their businesses, as compared to downstream risks (19%), such as logistics and shipping. This sentiment was particularly high in the semi-conductor (54%) and renewables (53%) sectors.
What should risk managers do next?
Luke Ware, Head of Corporate Risk & Broking, Asia, WTW, said that from multiple geopolitical tensions to ongoing inflationary pressures, global uncertainty is adding complexity to businesses just as they are recovering from the supply chain crisis.
"This makes building resilient supply chains a more critical task, as the disruptive environment will continue to leave companies exposed to significant risks," said Luke.
"Insurance to cover purely financial supply chain losses provides only a wafer-thin patchwork of protection."
"The large majority of businesses recognise that insurance has a role to play, which represents a growth opportunity. At the moment, insurance to cover purely financial supply chain losses provides only a wafer-thin patchwork of protection. Major coverage gaps were exposed by the pandemic, and companies remain un- or under-insured."
The survey results also highlighted how recent supply chain disruptions have increased the importance of BI insurance to senior decision makers – 65% of respondents said supply chain-related losses were higher or much higher than expected over the past two years, although 58% said the sales impact was short-term.
Only 17% of respondents have specific insurance to cover supply chain business interruption risks, but 53% believe it is covered by other insurance, leaving risk managers to consider their exposure and coverage needs.