Clive Clarke has set himself a formidable task: to sweep away the industry's boring image and bring in ambitious young professionals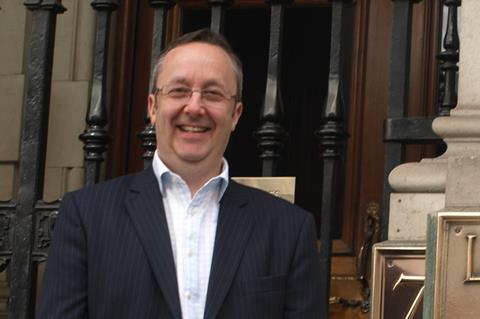 Grey, boring and dull: it's the stereotypical image of the insurance and risk industry. To lively, talented (under)graduates, and to the public at large, an insurance man is a conservative, middle-aged city dweller sat behind a desk. Compared to innovative sectors such as technology, the sector lacks sex appeal. Hardly surprisingly, then, that school-leavers are looking elsewhere for opportunities.
But Clive Clarke, group insurance manager at Lloyd's Register Group, banished this longstanding (and false) image in just 60 minutes when he met with StrategicRISK. Clarke has had a varied and propitious journey to the top of some the biggest FTSE-listed corporations as the lead for risk and insurance.
But this aspect of risk and insurance is a little-known fact. And later this month, he takes on a tough challenge, picking up the baton from Airmic's chair, Patrick Smith, at the association's annual conference in Harrogate, UK.
As its new chair, Clarke will tackle the industry's image problem. This is no mean feat.
The figures say it all. In a recent survey of UK business school students, conducted by Deloitte, only 0.5% said they would work for an insurer. Overall, insurance was ranked 19th out of 26 sectors in terms of future career prospects. It has hovered around this point for seven years.
There is a significant talent gap, too. Only 25% of the insurance workforce globally is under 35, while the number of workers close to retirement age continues to grow. Some 30% of employees are 55 or over, higher than any other industry. If this rate of retirement continues, the industry will need to fill 400,000 positions by 2020, according to consultants McKinsey.
"The problem that the industry's got is that it doesn't publicise itself well," explains Clarke.
"I've been very lucky, I've had a great career. But when you talk to people about insurance, they look at you and think 'boring'. That or they tell you about the time when their insurer refused to pay their claim, or reduced their claim, or something to that ilk.
"That's what we are up against. To attract new people to the industry, I would love to tell them my story and about the fantastic opportunities that the industry has given me."
Determination
So, what is Clarke's story and how will he turn these negative perceptions around?
His journey is likely to resonate with professionals starting their insurance careers in regional offices, and to school leavers looking for a role in financial services.
Before he led the insurance teams of Associated British Ports (ABP) and Schroders, and built Lloyd's Register's award-winning captive programme from scratch, Clarke had to work his way up. Career-wise, his beginnings were humble.
Leaving school, he was determined to make it to the very top. "I left school with basic O-levels and I didn't go on to do my A-levels," he says. "I grew up in Norwich and when I left school, if you wanted an office-based job, there were only two employers of choice: Norwich Union (now Aviva), or Sedgwicks (now Marsh).
"It's funny when you think about the talent hole we have now because back then, about three-quarters of employment in Norwich was with Norwich Union.
"In fact, at the time that I left school, I remember Norwich Union saying that it could take every single school-leaver, because its business was expanding hand over hand."
But Clarke's risk and insurance journey didn't start with Norwich Union. He instead found himself taking up a post in Sedgwicks' filing department. "I saw this as a route into a large company and I thought, 'If I work hard, I could transfer to another department.'"
That opportunity came soon enough. After 18 months in back-office crunch, Clarke transferred to an entity of Sedgwicks, Price Forbes, where he spent the next three years as a claims technician, processing marine claims for brown water, tugs and barges arising from Louisiana, New Orleans.
With one eye firmly on his next career move, he approached his line manager for overseas opportunities. "My line manager at the time was one of the rising stars of the company and was afforded the chance to take a secondment overseas.
"I wanted to experience working abroad and so I challenged him. I said: 'Is there a chance for me to do this? I know I'm not at a management level, but I'm very close to our subsidiary out there.' And he said: 'I don't see why not.'"
Before he knew it, Clarke was flying 4,625 miles to New Orleans, where he spent four months processing claims for Marsh subsidiary, Southern Marine and Aviation Underwriting.
It was on this secondment that an opportunity came to the fore that left him wanting a much bigger role. "A small aircraft went down on one of the sand bars in the Gulf of Mexico," he says. "It wasn't my area, I was in New Orleans, but my boss said, 'You can deal with aviation – go home, put a T-shirt and a pair of shorts on. You're going out to the Gulf of Mexico.'"
That same day, Clarke and a loss adjuster flew out on a small seaplane and landed about 30 yards from the crash. "The loss adjuster, in his suit and tie, took his clipboard and camera, jumped out of the seaplane into the water and began wading towards the accident. I followed suit and helped take pictures of the damage.
"In the end, the crash was put down to engine problems and the plane was written off."
He describes this experience as "a really exciting time". "I loved the lifestyle out there. The opportunity gave me exposure to clients, exposure to US brokers and litigations and law firms and a great outlook on life.
"Not many school-leavers would ever imagine that insurance could provide such exciting opportunities.
"I came back from my secondment feeling energised and wanting my next challenge."
Soon after, he joined Willis as broker technician, where he handled non-marine, excess of loss claims and also went out to the market to broker deals.
But two years in, his career would take a new turn when he transferred to the marine claims department.
He met ABP for the first time. And little did he know that three years later, he would be heading its insurance department.
After 9/11
That opportunity emerged after the devastation of 11 September 2001. "My main client at Willis was ABP, which owned and operated 21 ports across the UK. ABP was 70% of my workload during the week.
"I worked hand-in-glove with them for more than two years. And then a very unfortunate attack occurred: 9/11.
"The person in charge of insurance at ABP was a pensions and insurance manager but she was very pensions-biased. When 9/11 happened, the insurance market was turned upside-down. Cover was cancelled and there was an abundance of technical Insurance issues. The manager quickly realised that a lot more work was required to handle the insurance market.
"I happened to be working on a secondment with ABP at the time and I remember saying to the manager, 'It's clearly a tough time, you need someone with technical knowledge of insurance.'
"Her response was, 'Are you trying to write your own job description?' I said, 'If you want me to, I will.'"
The rest is history. In the summer of 2002, Clarke became ABP's head of group insurance, but it was a steep learning curve for the former broker and claims technician.
"I understood how broking worked and the information that brokers needed from me. I knew all the insurers and how the market worked, but I knew nothing about being an insurance manager," he recalls. "I had to learn fast and there were certainly challenges along the way.
"I was thrust very quickly in front of senior managers and was seen as the 'subject matter expert'.
"This was difficult. I came from a claims and broker technician background, with a management structure a few layers above me, to becoming a manager myself – and one with huge responsibilities."
"It was down to me to go around ABP's port locations and understand the variances, from Southampton, which is a huge port dealing with cars and cruise lines, to Hull and Immingham which dealt with agricultural feed. I would travel right up the north west of England to Barrow, which was big on nuclear subs, to very small ports like Silloth, which employed just a couple of people."
His risk remit also expanded. "There was a large amount of kit, huge cranes, warehouses, and cargo. All of that had to be understood: were the cargo combustible, could they get wet, did these items carry a theft risk, was there a terrorism risk? There were also D&O risks, employer's liability, asbestos and noise-induced hearing claims to deal with."
For the next four years, he built an extensive insurance programme that could handle ABP's myriad risks. He established a team of bespoke loss adjusters and lawyers to deal with any damage or claims that occurred, and by the end of his time there, all the ports were sufficiently risk-managed.
Going global
With solid risk management experience now under his belt, he made his next move, joining Schroders in 2006 as its first-ever full-time insurance manager.
During his six years there, he dealt mainly with intangible assets – pensions funds, sovereign wealth and millions of pounds being exchanged in credit. He also built its first-ever global insurance programme, involving non-admitted insurance, to ensure Schroders had all the necessary local policies.
Then came the 2008 financial crash. "I remember it unfolding around September, when we were having one-to-one renewal negotiations with AIG, with whom we had a huge amount of business," he says.
"But AIG was on the brink of collapse, and the idea of me being the subject matter expert came sharply into focus.
"Everyone wanted to know what would happen with the current claims. Could we replace them, would AIG survive, and should we stay with them if they did?
"Then there was the collapse of Lehman Brothers and this had an effect on Schroders. It knocked public confidence and people started to pull their money out. People wanted cash rather than assets.
"My main challenge was in finding a way to respond to the instability in the insurance market and a solution for Schroders should AIG cease to exist.
"In the end, after several meetings with AIG's chief executive, we decided to back them."
After risk-managing Schroders through the recession – and establishing a global compliance programme to deal with new and stringent measures from the regulator following the worldwide crash – Clarke felt it was time for his next challenge.
He joined his current employer, Lloyd's Register, in 2012 and once again became its first full-time insurance manager. One of his key achievements so far is in transforming how the company deals with risk and the insurance market.
Partnering with Willis and Zurich, Clarke built an award-winning, 'cross-class captive programme'.
The programme combines general insurance and employee benefit, such as group life and income benefit. Zurich underwrites eight lines of cover and reinsures agreed limits back into the captive. The programme won the Institute of Risk Management's partnership of the year award in 2014.
Three decades on from his first day at Sedgwick, Clarke's career will take another turn when he assumes the hot seat at Airmic.
His career certainly disproves the notion that insurance is dull. It has been varied, challenging, exciting and international.
But how would he describe his career to date?
"I've been lucky," he says, modestly. "I've had fantastic and knowledgeable support from the whole insurance community and great teams and managers. That's why my focus will be on attracting and training young and new risk and insurance managers.
"In my year as chair, I want to relay my experience and give something back to the industry
"My message is that you don't necessarily have to be good academically. I wasn't. I was opportunistic, flexible and personable and that's helped me."
The next generation
He intends to use his position at Airmic to publicise the varied opportunities available within the industry and get as many prospective risk and insurance managers as possible excited about risk management.
"Airmic needs to consider where it can attract the next generation of risk and insurance managers. Do we look at business schools, universities and colleges and try to get them interested and do we look to, as my story goes, regional offices of insurance companies?" he says
"Senior risk and insurance managers could consider the current talent within their organisation.
"For instance, looking at my current company, yes we have a risk and insurance team, but we also have health and safety professionals who undertake an element of risk management.
"There are also employees working in audit, who are doing some form of risk management and compliance. So I may be able to draw them in and offer them some form of risk and insurance training, which they currently don't have access to.
"Elsewhere, in regional offices of brokers and insurers, there is a lot of talent and, with the right nurturing, we can unearth some of those hidden gems who weren't from the top universities but who are already forging careers in risk and insurance."
Indeed, Airmic is the ideal breeding ground for the new frontiers in risk, as its annual conference is adeptly themed. It offers a number of educational programmes – fastTrack for those new to risk and insurance and Airmic Academies for the experienced managers – helping professionals grow at every stage of their varied and diverse journey in insurance.
Summing up his 29 years so far, Clarke says "no two days are the same". Whoever said insurance was grey, boring and dull?