With an ageing workforce, German construction is battling for the best talent. This means embracing new technology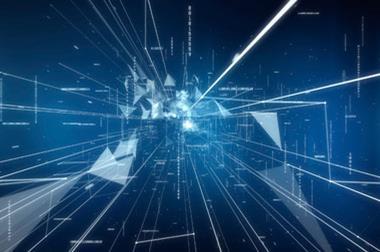 One of the biggest challenges facing the construction industry in recent years has been a growing skills gap. In Germany, up to two-thirds of construction firms are finding it difficult to attract suitable talent, according to research by the European Commission. One way of closing the gap, as the competition for skilled architects, engineers and computer specialists increases, is the use of new technology, including robotics, drones and 3D printing.
Embracing the digital age is also expected to attract younger talent, which is increasingly essential given the ageing workforce. In 2016, 10,784 new construction apprenticeship contracts were signed, compared with the 13,500 workers who retired in the same year, according to research from Die Deutsche Bauindustrie. The ratio of apprentices to skilled workers was 8.7 in 2014, below the critical value of 10.
"I am convinced that the war for talent is the most important fight to win," says Anders Esbjörnsson, head risk management at cybersecurity and risk mitigation firm NCC Group. "By embracing new technology, the possibility to attract talent increases."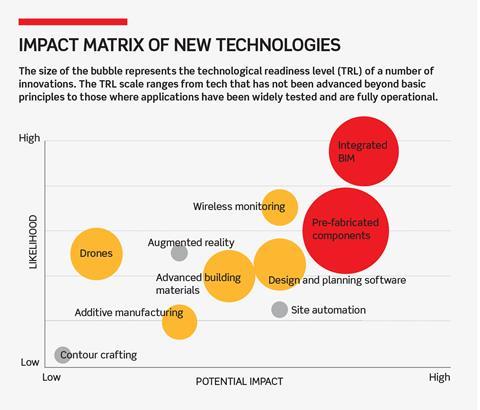 BRING ON BIM
At the heart of digital innovation within the sector is building information modelling (BIM). According to Swiss Re Sigma, BIM is either already in use or being tested by the majority of construction firms and can contribute towards mitigating construction risks in a number of ways, including :
Safer buildings. A set of rules, based on compliance regulations and safety-related best practices, can be formulated and coded into BIM software.
Limiting the chance of negative project events. BIM systems, integrated with construction management software, can streamline cost and time estimation of jobs and reduce or eliminate delays.
Making projects more environmentally friendly. Creating a digital 'memory' of the building. BIM can record all aspects of history and operation, including past problems and how they were resolved.
The Federal Ministry of Transport and Digital Infrastructure is supporting the use and uptake of BIM for the whole supply chain of planning, construction and operation, and presented a national step plan for BIM implementation in 2015.
By 2020, BIM will become the new standard for transport infrastructure projects throughout Germany, with implications for the 2030 Federal Transport Infrastructure Plan. Similar objectives are being announced in other construction and engineering sectors.
ECO-INOVATION AND DIGITALISATION
The Federal Ministry of Economics and Technology is promoting various construction research projects as part of its Energy-Optimised Construction Initiative. It covers five research areas:
EnBau (Energy-Optimised New Buildings) entails the planning and construction of office, administration, public and commercial buildings with minimal energy requirements.
EnSan (Energy-Oriented Refurbishment) involves the testing of innovative refurbishment technologies and materials.
EnBop (Energy-Oriented Operation Optimisation) entails the optimisation of the performance of both traditional and innovative non-residential buildings through the development of innovative tools and services.
LowEx (Low-Exergy Technologies) focuses on the development of innovative systems for buildings and energy supply, also using renewable sources (for example, solar energy)