The potential of the technology has excited the construction industry, with some firms proving that 3D printers have the capability to print houses at the push-button – but what are the risks?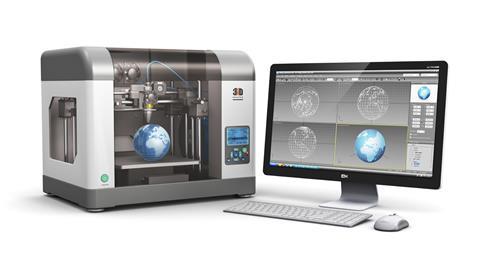 Ever since Johannes Gutenberg invented the printing press 575 years ago, the technology has advanced to printing everything from photographs to fabrics. But now, it has the capabilities of printing houses.
Ever since Chinese construction company, WinSun New Materials, threw up ten houses last year in 24 hours at a knockdown cost by employing a giant onsite 3D printing machine, the potential of the technology has excited the construction industry.
Many supporters such as blue-ribbon architects Foster + Partners predict a future of low-cost "green" houses fabricated from bio-wastes and soaring pavilions made in traditional materials. In a dramatic vote of confidence in 3D-printed construction, London-based Foster + Partners is working with the European Space Agency on a project that would see houses on the moon built by a remote-controlled printer.
Among the many virtues claimed for large-scale 3D printing are its accuracy, speed of construction, reduced waste and lower health and safety risks because many of the more dangerous jobs will be removed at one stroke.
Essentially, the technology is based on an industrial-scale printer that, following a digital blueprint, processes materials on or off-site in a way that creates all – or most – of the essential components. Thus 3D printing short-circuits some of the most time-consuming and error-prone elements of construction.
While the long-term outlook is undoubtedly promising, there are risks in construction companies plunging headlong into such a radically new technology. May Looi, senior associate at law firm Kennedys warned earlier this year in Construction Manager, the publication of the Chartered Institute of Building that, like any untried development, 3D-printed buildings raise liability and contractual issues. Among others she sees the danger of all kinds of post-construction disputes "unless the potential duties and risks are considered at the outset to ensure clarity between the parties."
For instance there may be arguments over defects and imperfections And nobody knows how durable these printed materials and products will be. "Clients may seek express terms relating to the quality, lifespan and fitness for purpose of the 3D-printed elements of the buildings," she notes.
All – or any one of these – will probably involve rewrites of existing insurance policies in ways that provide cover for parties from future claims, additional warranties or guarantees. "Should extensions be made to ensure against cover for possible claims?" Looi asks rhetorically.
As well as legal and insurance risks, daunting technical challenges remain, such as the size and reliability of the printer. The one in China reportedly towered over 30 feet high.
While the industry is feeling its way through these industrial-scale issues, for the moment it's the technology's potential for bespoke, easily configured buildings that is exciting most interest. Among other projects Netherlands firms, Dus Architects and Ultimaker, are working on a 13-room canal house in which the components are pre-fabricated so that the various rooms will interlock like a Lego toy. A printer known as the karmerMaker fabricates the internal and external walls simultaneously, leaving a gap in the middle for piping, insulation, electrics, reinforcement and other internal essentials.
In the wider industry many believe 3D printing will make its most immediate contribution in the construction of discrete elements – panels and smaller complex components, for instance – rather than in full-sized buildings. And at present some elements are simply beyond the technology's capacity. In China, for instance, the machine was unable to print the roofs.
Experts believe we'll learn a lot more about 3D printing's full potential over the next two years.
of Construction Manager