Explore how bribery perceptions have changed over the past four years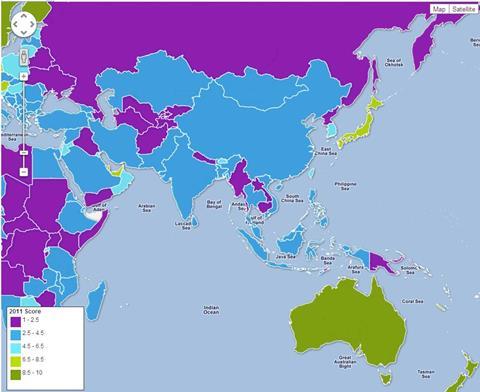 The Guardian data blog published a map detailing the findings of Transparency International's Bribe Payers Index.

The map allows you to compare countries' scores around the world as well as look back at the results over the past four years.
It shows that the highest ranking countries such as Denmark, Finland and Sweden have improved slightly over time, but the overall picture does not show much change.

Northern Europe, Oceania and Canada continue to occupy the highest ranks, while the Middle East, Russia and Central Africa have come bottom since the research began in 2008.
Some countries do show significant changes. Italy's corruption levels have worsened, its score having fallen from 4.8 in 2008 to 3.9 in 2011. Japan on the other hand rose from 7.3 in 2008 to 8 in 2011.
You can find and explore the map here.