Residents seek safety away from storm's path despite no evacuation orders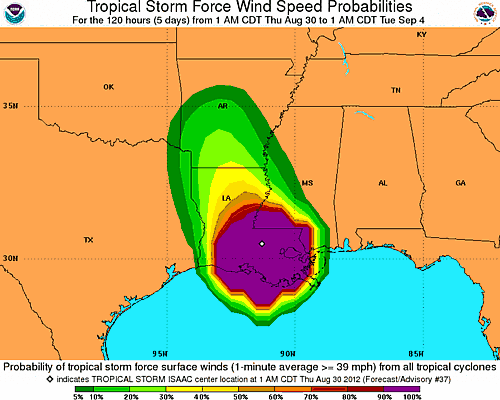 Tropical cyclone Isaac has reached hurricane strength according to catastrophe modelling firm AIR Worldwide.
Offshore oil and gas operators in the Gulf of Mexico have evacuated platforms and two landfalls have occurred along Louisiana's south-east coastline.
"Isaac's sustained winds have increased to 75mph and the storm, as expected, is now a hurricane," said AIR's principal scientist Dr Tim Doggett.
He also said data indicates maximum winds are closer to the storm's centre which is expected to weaken as it enters the north-central Gulf Coast.
Warmer surface temperatures at sea and favourable wind shear conditions resulted in intensifying the tropical storm to a category 1 hurricane.
While Isaac's speed may have slowed, its movement inland towards New Orleans still poses a threat after it strikes shore at 8.00am Central Time.
Residential structures along U.S. gulf coast are expected to suffer moderate damage to roofs and coverings but there should be little damage to masonry walls. Engineered structures like concrete and steel buildings are expected to be impacted least.
AIR estimates total buildings exposure in the coastal region of Isaac's impact to be about $480bn. The firm has said it will continue to monitor Isaac's progress closely and revise impacts of the storm after studying resulting events.