Aon says the campaign by extremists in the Middle East has increased exposures for firms in nine developed Western economies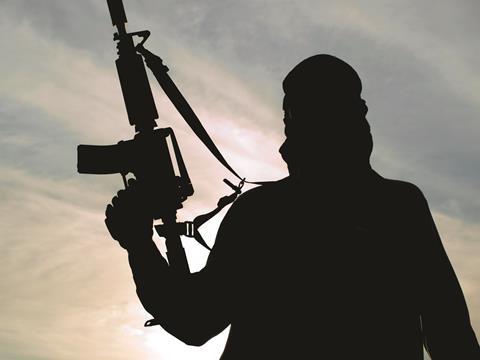 The risks of armed conflict and terrorism are rising in Western economies, owing to the increased terror threat posed by Islamic extremists, according to Aon's risk management business, Aon Risk Solutions.
The broker's Terrorism and Political Violence Map was released this week in partnership with global risk consultancy The Risk Advisory Group and shows an increased risk rating for nine developed European economies.
Australia, Belgium, Canada, Denmark, Estonia, France, Germany, Ireland and Norway have each had their risk rating increased. Many of these rises owe much to greater terrorism threats, most of which stem from the rising influence of Islamic State (IS) as well as the ongoing threat from Al-Qaeda affiliates and supporters, according to Aon.
The broker reports that top risks for business in these nations include increased terrorism threats in developed economies and a progressively uncertain and dangerous geopolitical environment, in which the risk of armed conflict is growing amid changing and unstable regional balances of power.
Aon Risk Solutions director business development and network relations Scott Bolton said: "It is interesting that Europe is at significantly greater risk from the rise of the IS. Businesses need to understand how they can mitigate this risk in affected countries as well as build terrorism insurance programmes that align more closely with their exposure."
Globally, the map shows a mixed picture, with a net reduction on country risk ratings worldwide, but with political violence and terrorism risks concentrating and intensifying around a smaller number of countries. The risk rating was reduced in 21 countries and increased in just 13. The global picture is also one of marked polarity, with clusters of concentrated risk across South Asia (namely Afghanistan and Pakistan), North Africa and the Middle East.
The Risk Advisory Group head of intelligence and analysis Henry Wilkinson said: "This data highlights that terrorism and geopolitical uncertainty are risks that businesses cannot ignore and they are as relevant to developed economies as they are to emerging markets.
In a hyper-connected world, faraway problems can affect local threats and political violence can spread rapidly with little warning. However a high-level of risk does not automatically mean that these areas are closed for business. Companies can exploit the opportunities in any market with high-quality intelligence and analysis and a strategy to navigate and manage the risks."