DLA Piper's chief risk officer has much to thank for a great career: underwriting, the eurozone crisis and a rebellious streak at school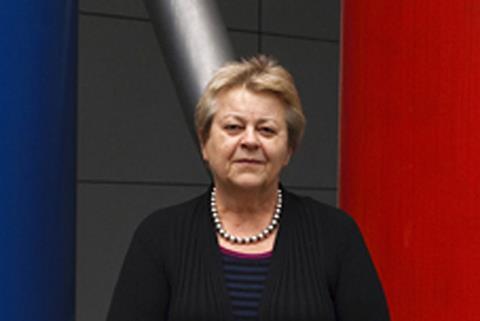 DLA piper's chief risk officer Julia Graham is fresh from a meeting about the firm's captive. She sits down and eats half a beetroot salad sandwich. But such is her enthusiasm for her job that the rest of her lunch is soon forgotten as she talks about her career and plans.
DLA Piper, which has ambitions to be the world's leading law firm, has offices in more than 30 countries. In a way, says Graham, it is not very different from a manufacturing enterprise; it just manufactures legal advice.
So, when it comes to risk, there are the generic issues that affect everybody, but the profile is different. "Security of information is a very big-ticket issue in all businesses. So is malpractice, which has got to be a big issue for a law firm," Graham says.
"You need to buy some insurance locally for various reasons - and we manage all of that. Over and above that, we have international programmes to act as umbrellas, with, on malpractice, a high limit and wide scope of cover, as is typical in UK lawyer market wordings. We manage the first part of that through our Guernsey-registered captive. Over that, we have various layers of cover, mostly placed in London."
DLA Piper is unique in having its business split almost equally between America and elsewhere. Graham says there are enormous differences between the two sides of the Atlantic. "That's one of the reasons why we buy an international programme and Americas programmes," she says.
"The whole philosophy of malpractice insurance especially is very different. We link our programmes through wordings, but we run them as separate programmes with separate underwriters. There are very different attitudes to how people perceive insurance, how people perceive risk and how we manage claims."
Graham muses further on cultural differences. "In the international business, if I were to design a risk management or compliance solution in London and go out to more than 30 countries with it, apart from some core essentials most people would come back and say: 'Well, it doesn't suit us' or 'It doesn't work like that here'. So we tend to have a minimum benchmark and then take into account local differences. Sometimes you have to embed things in a different way. If you try and enforce it everywhere you go, potentially you have a problem, as you will not capture hearts and minds or truly embed what you need to achieve.
"We are a global business with different local cultures, and we try to manage risk the same way. We have no blueprint that fits everywhere, which makes for a challenging approach."
Brought up with three elder brothers near Portsmouth, on England's south coast, and against a military background, Graham describes herself as a bit of a tomboy. "I was always very naughty as a child and took lots of risks," she says. "If someone said: 'For school you can wear red, green or blue', I was the one who'd have purple or yellow. So I was a bit of a rebel."
Is that a good quality for a risk manager? "I think that as you grow older, that translates into being challenging, being brave," Graham says. "The qualities of a good risk manager are to assimilate a lot of information and to get on well with the people you are analysing it with - but also to have the courage to stand up and raise challenges. So having a bit of a rebellious streak as a child probably accounts for a great deal."
It certainly accounted for Graham's decision to reject a career in the army - "too many rules, too many regulations". Instead, she took a temporary job in a Portsmouth building society, was given its insurance portfolio to run - and was hooked.
Up the ladder
Next, it was Zurich, where she was part of the "fire brigade", then General Accident, dealing with life and pensions. Meanwhile, she put herself through an Open University degree and completed her fellowship for the Chartered Institute of Insurers.
"I did a lot of studying, the hard way - in my own time. I'm a bit mad for learning; always hungry for knowledge. Always have been, always will be."
Graham then joined Royal Insurance, which, she says, gave her a wonderful education. "Working in insurance is a gift of a career. I had so much fun."
She believes this underwriting experience has served her risk career well. "I sat in a team in Royal's underwriting centre that pared back the risk to its basics," she says. "I learned the art. You had to understand what you were trying to insure. Really understand where the answer comes from and often manuscript the wordings. You didn't just go to a system that said: 'The last 16 answers have been this, so the price is X'. Insurance is a great way to train as a risk manager; a great way to do an apprenticeship."
European agenda
It is an apprenticeship that has taken Graham to the top of the profession. Not only is she an internationally respected risk manager but she is also closely involved with promoting the development of the profession across Europe and beyond.
Graham has been on the board of Ferma since 2010. She reflects that the eurozone crisis has made the profession feel more like crisis management than risk management at times, but she remains upbeat. "It has given Ferma an opportunity to keep very close to the EU, to represent its member associations in Europe and bring out learning and knowledge from the centre to share. We've not started to look inwards; in fact we've stepped up and put the foot on the gas. We've improved the staffing to make sure we keep on top of changes in Europe."
Graham may soon get the chance to further strengthen Ferma's links with the EU and other organisations. She is considering running for the presidency when Jorge Luzzi vacates the position at the end of his two-year term.
"I've been a board member for years and reached the stage in my career when it's something I'd like to give back," she says. "I'd like to use all that knowledge and joy of being in the industry I've been given. So I'm thinking about it seriously. And, fantastically, with the full support of my firm." Watch this space.