Kidnap threats are rising around the world and the danger to business travellers and employees is particularly acute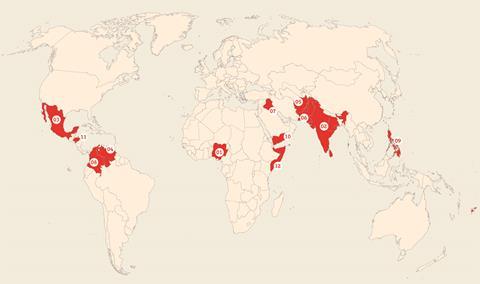 Kidnap for ransom is not a new phenomenon. It is, however, becoming more prevalent worldwide as international travel - particularly for business - presents opportunities for both criminal gangs and politically motivated groups.
Kidnaps in North America and parts of Europe, such as Russia, are relatively rare. Most kidnap hotspots run in a belt either side of the Equator and cover problem regions in Africa, Asia and Central and South America.

1 Nigeria
Most kidnaps are carried out by criminal gangs. Politically motivated abductions are increasing and the threat to foreign nationals is high. The southern states are the highest risk and criminals are expanding into neighbouring countries.
2 India
India has had one of the highest kidnap rates for many years and the threat is widespread. The highest levels occur in the cities of Mumbai, Delhi and the neighbouring states of Haryana and Uttar Pradesh. The perpetrators are commonly criminal gangs. There has been a recent spate of child kidnappings.
3 Mexico
Mexico has long been a kidnapping hotspot. The number of incidents is rising and drug-trafficking related violence is growing. The activity is focused on Mexico City and the states bordering the USA. Wealthy nationals, foreign employees of large companies, the middle class and journalists are all targeted.
4 Venezuela
Kidnapping is centred on Caracas and victims are mainly businessmen. The western border region is particularly high-risk as the Colombian conflict spills over into Venezuela.
5 Afghanistan
Most kidnappings are by the Taliban. The risk is country-wide but more severe in the southern and eastern states in areas prone to insurgency. Local and foreign aid workers, journalists and security contractors are targeted, often for political motives but also for financial gain.
6 Pakistan
Pakistan has been a top 10 nation for kidnapping for several years and the situation is getting worse. Targets are wealthy nationals and expatriates; demands are political as well as financial. Kidnap for ransom is geographically widespread and is perpetrated by a mixture of criminal and Islamic militant groups for financial and political gain.
7 Iraq
Risk of kidnap for ransom is high for local and foreign nationals in Iraq, especially in the cities of Kirkuk, Mosul and Baghdad. In recent years the number of incidents involving foreign nationals has fallen.
8 Colombia
Kidnap rates are decreasing but the country remains in the top 10. Kidnaps still occur in northern rural states and urban centres where employees of large multinationals attract significant ransom payments. Express kidnap is often used.
9 Philippines
The Philippines offers a significant kidnap risk,
particularly on the southern islands and, decreasingly, in the capital Manila. Gangs often target Asian businessmen during routine car or taxi journeys.
10 Yemen
Visitors, especially diplomats, have been at risk of kidnapping in Yemen for several years. Tribesmen target foreign nationals in rural areas north and east of the capital. Piracy can also occur in Yemeni waters.
11 Honduras
Foreign and local industrialists as well as businessmen are targeted and kidnappings are frequent. Perpetrators kidnap low or middle income citizens and also use express kidnap intensively.
12 Somalia
Somalia's waters are at an extremely high risk of piracy. Somali pirates threaten vessels with powerful weapons, board and direct them to Somali ports. The vessels, cargo and crew are held until a ransom is paid. Journalists and aid workers are at an extremely high risk on land.

Source: Special Contingency Risks