Done something exceptional in 2011? If so you could be a winner in the ninth annual StrategicRISK Awards. Enter today.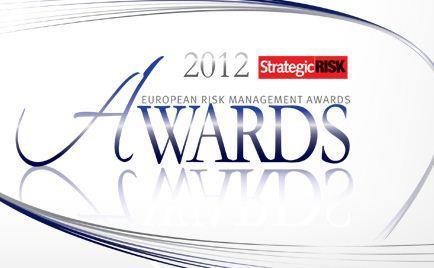 The StrategicRISK European Risk Management Awards are dedicated to recognising and rewarding organisations and individuals who can demonstrate they have gone the extra mile with measurable results to introduce or improve their risk management strategies.
Since our awards began in 2002 we have seen risk management climb the corporate agenda. This has been reflected in the support of our awards - the number of high standard entries has grown year on year. All companies compete equally, size doesn't matter. It is commitment and effectiveness that make our winners stand out from the crowd.
The 2012 StrategicRISK European Risk Management Awards will be announced at a gala lunch reception at the Intercontinental Hotel, London on Tuesday 8th May 2012. A representative from each shortlisted finallist will be invited to attend this event as a guest of StrategicRISK.

How to enter
At StrategicRISK we recognise how busy you are and that preparing an entry form may not be top of your to-do list. With this in mind, our entry system for you to tell us about your achievements is designed to be quick and easy. To help you submit an entry, here's our five-step guide.
Step 1: Find the right category
Check each category definition to make sure you are entering the correct award. Click here to read read the full criteria for each category.
Choose from ten different Awards categories
European Risk Manager of the Year
European Risk Management Team of the Year
Enterprise-wide Risk Programme of the Year
Best Risk Communication of the Year
Most Innovative Use of IT or other Technology
Best Business Continuity Approach of the Year
Best Risk Training Programme
Best Risk Management Approach in the Public Sector
Risk Management Product of the Year
Risk Management Young Achiever of the Year
Step 2: Read the questions
We've done away with the need to write lengthy submissions. To enter, simply complete our awards questionnaire comprising no more than eight questions, which make up your entry. Our judges want to compare entrants' answers against each set question. Make sure you answers are succinct, avoid wordy, vague explanations and remember, where possible to back up your answers with facts and testimonials
Step 3: Timescale and team
Establish what data, evidence, testimonials and examples you will need to support your entry. Delegate to members of your team and make each responsible for completing a section of the form. Entering, and especially winnning, awards is great for team building
Step 4: Do you homework
Take a look at previous winners and find out what they did to gain their award. Have a look at our coverage of previous winners in the related articles section of this page.
Step 5: Start today
All entries must be received by Friday 3rd February.
Important dates
Entry deadline: Friday 3rd February 2012
Finalist shortlist announced: Friday 2nd March 2012
Awards ceremony: Tuesday 8th May 2012, Intercontinental Hotel, London