Amrae's president opened this year's conference with a stern message: get on top of business transformation and the challenges it brings
Risk managers were urged to get to grips with the issues that are forcing businesses to transform their strategic models and operations – or risk losing their value.
These were the stern words of Brigitte Bouquot, Amrae president on opening this year's conference.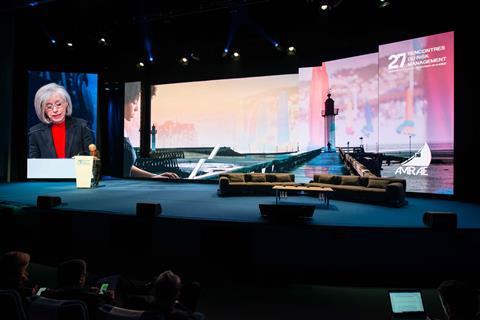 She said there were several levels of business transformation that must be understood and managed.
The first is fighting off competition by changing to ensure future relevance: "On the first level: a business transforms itself so it won't die out when faced with the lethal risk of competition. Here, we see a business's vital "risk-taking," its creative force, its contemporary strategic transformation under the effect of the digital revolution, which has knocked down technological barriers."
So, the consideration for risk managers? Challenge with the following questions: "What is my product, my mission? What is its value contribution? This is a matter of seizing strategic opportunities and cutting away from bad risks, to determine a "risk appetite" level."
The second business trend is globalisation, and the growing complexities of managing interconnected risks.
"A business becomes conscious of its complex interdependency with its ecosystem, its security, its exposure to systemic shocks: terrorism, natural disasters and cyber attacks, and, ultimately, geopolitical threats in a once-again dangerous world
"Here, the question is 'how' – how to operate better, how to keep from destroying value in the very act of trying to increase it."
Businesses must structure themselves to operate better. They must be connected and agile, she says, "all while weathering virtual and real-world shocks, which recall us to ourselves, viaducts, fires."
This is largely connected to directors' and officers' responsibilities. She warns of the risks of high-pressured objectives to maintain business performance to "avoid disappointing shareholder expectations."
Her concluding words for risk managers: risk management must be holistic: "risk-mapping cannot be cut up into pieces."
"Risk management became a "battle" to obtain the necessary resources for prevention, that is, to allocate, "at the source," a portion of future competitive advantages. No longer only technical, risk management is now forward-looking and ethical. Risk managers are now connected with directors."