Stocks and euro tumble while bond yields hit record high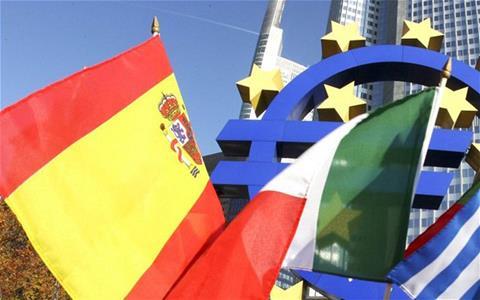 Stock markets across Europe have this morning fallen sharply amid mounting concern about Spain's economy and wider worries about Greece's inability to repay its debts.
Shares on the major bourses were down at least 2% while Spain's own Ibex share index plunged more than 5%. Shares in Spanish banks also registered significant losses, with Bankia the hardest hit at 8%.
Ten-year bonds, which act as a benchmark for Spain's creditworthiness, today climbed more than 30 base points, while two-year bonds were up almost 90 base points.
The yield on Spain's 10-year bonds reached a new euro-era high of 7.56% before falling back to 7.43% in early afternoon trading.
Concern that Spain's debt-ridden regional governments will trigger a full international bailout is a key factor behind the latest economic turmoil. Valencia and Murcia have putatively requested financial aid from the central government and reports suggest more regions are set to follow by asking for financial lifelines.
The country's problems were compounded further as the Bank of Spain revealed that the economy had contracted by 0.4% between April and June, following a fall of 0.3% in the previous quarter.
However, Ministers in Spain insist that there are few options available to them to reduce borrowing costs.
Fernando Restory said the current crisis "reflects problems in Spain as well as the euro zone". He added: "We need to continue further along the same line. We need more cuts, more reforms which will restore market confidence and mechanisms which will strengthen the monetary union."
Elsewhere, Germany fuelled fears of an imminent Greek exit, as economy minister Philipp Rösler revealed that he was "very sceptical" regarding Greece's ability to hit austerity targets.
"What's emerging is that Greece will probably not be able to fulfil its conditions …," he said, adding "What is clear: if Greece doesn't fulfil those conditions, then there can be no more payments."
Italy also saw its primary share index drop by 2.5%, registering a significant loss for its banks.
The falls across Europe took a heavy toll on the euro, which fell in overnight Asian trading to its lowest level against the Japanese Yen since November 2000.
At the close of trading, London's FTSE 100 was down 2.1%, Germany's Dax had fallen by 3.18%, and France's Cac was 2.89% lower. Italy's FTSE MIB fell 2.76 %, while Spain's Ibex lost 1.1%, having been down 5% earlier in the day's trading.
The fallout from the turmoil was felt beyond Europe, though, as the Dow Jones fell by more than 200 points, or 1.7% in the first 10 minutes of trading this morning. In addition, Hong Kong's Hang Seng fell by 2.8%, while Tokyo's Nikkei 225 lost 1.9% and China's Shanghai Composite dropped 1.3%, marking a poor day's trading across the global markets.
Is euro zone disintegration now inevitable or can the single currency be saved?
Have your say on this story using the comment box below