Entries for 2016 MEA Risk & Insurance Excellence Awards close on 31 March – enter now for a chance to win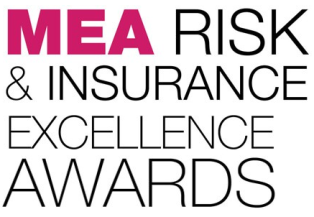 Following the success of last year's inaugural MEA Risk & Insurance Excellence Awards, the awards are back for a second year to celebrate excellence in risk and insurance in Middle East and Africa region.
Entries for the 2016 awards are now open and risk and insurance professionals have until 31 March to submit their entries.
In September 2015, more than 200 risk professionals met in Dubai to celebrate best practice, excellence and innovation at the inaugural MEA Risk & Insurance Excellence Awards.
Meet last year's winners
Last year, Mostafa Ramzy, senior enterprise risk management expert at Emirates Nuclear Energy Corporation, won MEA Risk Manager of the Year.
Ramzy was praised for turning a "company that had no risk management agenda" into one which now has risk management "at the head of the organisation and embedded throughout the business".
The MEA Risk Communication Strategy of the Year award went to Abu Dhabi Airports for "achieving engagement with all stakeholders for its new airport terminal".
MEA Enterprise Risk Management Programme of the Year went to Roads & Transport Authority, Dubai for "generating a systematic and common understanding of risk throughout the organisation based on evidence of risk maturity and embedding of the risk principles, framework and process".
Marsh won MEA Best Risk Financing Approach for its "assessment of the total cost of risk and concentration of risk resulting in a more incisive risk evaluation".
A Special Recognition Award went to the IRM's Jordan and Palestine Group for what was described as "extraordinary efforts in establishing and developing risk management practices".
The 2016 Awards
Organised by StrategicRISK and its sister publication Global Reinsurance, 16 awards will be handed out at a gala dinner on 9 October 2016 at the Four Seasons Hotel, Jumeirah Beach in Dubai in what is now recognised as the first in the region to combine risk and insurance professionals as well as the only awards to cover the Middle East and entire African continent.
The Awards are a platform for risk and insurance professionals to share best practice, showcase innovative solutions, and demonstrate market leadership. They celebrate the successes of the region's finest risk and (re)insurance executives, and the professionals who make sure they get the best results. Once again, we are seeking to find the most successful and innovative individuals, teams and companies to reward their achievements.
Unlike other events, the Awards give entrants the opportunity to provide simple and concise submissions and then present their case to a panel of expert industry judges.
Each entrant shortlisted will be invited to deliver a 10 minute presentation at the first round judging day taking place at the DIFC Conference Centre, Dubai on 26 April 2016.
For more information or to enter the awards, visit the awards website http://events.globalreinsurance.com/mea-risk-awards/
2015 WINNERS
MEA Risk Manager of the Year
Winner: Mostafa Ramzy, senior enterprise risk management expert, Emirates Nuclear Energy Corporation
MEA Enterprise Risk Management Programme of the Year
Winner: Roads & Transport Authority, Dubai
MEA Special Recognition Awards
Winner: IRM Jordan & Palestine Regional Group
MEA Commercial Broker Initiative of the Year
Winner: Marsh
MEA Risk Communication Strategy of the Year
Winner: Abu Dhabi Airports
MEA Commercial Insurer Initiative of the Year
Winner: Jordan Insurance
MEA Business Partner of the Year
Winner: Milliman
MEA Best Risk Financing Approach
Winner: Marsh
MEA Broker CEOs' CEO of the Year
Winner: George Kabban, UIB
MEA Insurer CEOs' CEO of the Year
Winner: Dr Abdul Zahra Ali, National General Insurance
MEA Reinsurer CEOs' CEO of the Year
Winner: Fadi Abu Nahl, Trust Re
MEA Industry Achiever of the Year
Winner: Mark Cooper, country manager, Lloyd's