Francois Fillon and Emmanuel Macron are the two presidential front runners but another populist revolt could change the outcome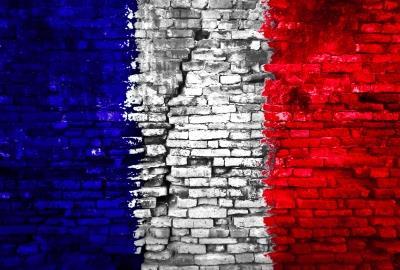 By Mike Jones StrategicRISK editor in chief
After Brexit and the election of Donald Trump as US President, could the next major political shock come from France?
Polls ahead of the French Presidential elections put the far-right candidate Marine Le Pen as the clear first round winner when votes are cast on 23 April.
However, the same polls also indicate that both the conservative Francois Fillon and the centrist candidate Emmanuel Macron would defeat Le Pen if either were to face her in the decisive run off on 7 May.
That is the theory at least. The reality may well be different - polls prior to the UK referendum and US presidential elections got the outcome wrong consistently so there is little reason to take forecasts for the race to the Elysee Palace as a formality.
The current French political landscape is not dissimilar to a Claude Monet picture – a complicated perspective with little absolute clarity and plenty of murky areas, any one of which could either unseat a candidate or propel them closer to victory.
Fillon, the hot favourite on an ethical ticket may not even appear on the ballot paper. Only last week he became embroiled in a scandal involving allegations around payments to his wife and has threatened to drop out of the race if he is investigated formally.
His supporters have denounced the claims as a smear but the allegations are likely to cost Fillon votes whether true or not.
There are also questions about Macron's expenses during his time as economy minister and, while these are less serious, they pose another question for voters to consider.
Le Pen too faces investigation around allegedly fraudulent European Parliament payments to staff who were party workers.
The claims against Le Pen might be the most damaging in theory. However, she has dismissed them as politically motivated and they are unlikely to deter her core support in much the same way that Trump voters backed him no matter what accusations were levelled his way.
Trump survived and triumphed despite a campaign littered with incidents which would not only have derailed other candidates but also destroyed their political hopes permanently.
The Trump influence may also have other consequences for the French elections. He rode a wave of so-called populism as voters delivered a bloody nose en-masse to the political elites they blame for ignoring their plight. Trump stood up for them and they backed him no matter what.
We are now less than a fortnight into the Trump Presidency and already his capacity to shock which was displayed so often on the campaign trail has continued in office.
The hugely controversial US travel ban imposed on citizens of seven countries is unprecedented and has caused widespread outrage.
Many supporters of Le Pen would no doubt like to see France adopt similar measures or indeed go even further to restrict the flow of migrants into the country so they might be encouraged by what is, theoretically, possible.
What Trump has done could induce more people to vote for Le Pen out of expectation she might do the same – or she may lose support from less committed voters about where such action might lead ultimately.
Over the past two years France has been rocked by a series of appalling mass casualty terrorist attacks launched by supporters of so-called Islamic State. These have already raised questions about France's internal security and the impact of large-scale mass migration. Support for Le Pen has risen accordingly and another incident in the run up to the election or between the two voting days could swing the result in her favour as voters react in the immediate aftermath.
Le Pen has promised a Brexit-style referendum on France's future in the European Union. While it is less likely that French voters will follow their UK counterparts because of the country's historic and integral role in the EU, it cannot be ruled out.
It is perhaps for this reason that Credit Suisse strategists this week said France's presidential elections posed the "greatest existential risk for Europe".
The French left looks highly unlikely to succeed in April but that does not mean that socialists lack the power to influence the overall outcome of the election.
Last weekend they selected maverick left winger Benoit Hamon as their candidate. Hamon is another divisive figure and while his policies – such as a universal monthly income of 750 euros - might appeal to more hardline socialists he may well encourage those with more moderate views to switch allegiance, with Macron the likely beneficiary.
Hamon's candidacy adds yet further uncertainty to a race which is far from over.
With less than three months to go either Fillon or Macron looks to be the likely winner but this race still has plenty of twists and turns ahead. Governments, businesses and indeed risk professionals, should heed the lessons of Brexit and Trump and not discount the prospect of a Le Pen victory.
The so-called populist revolt is far from over.